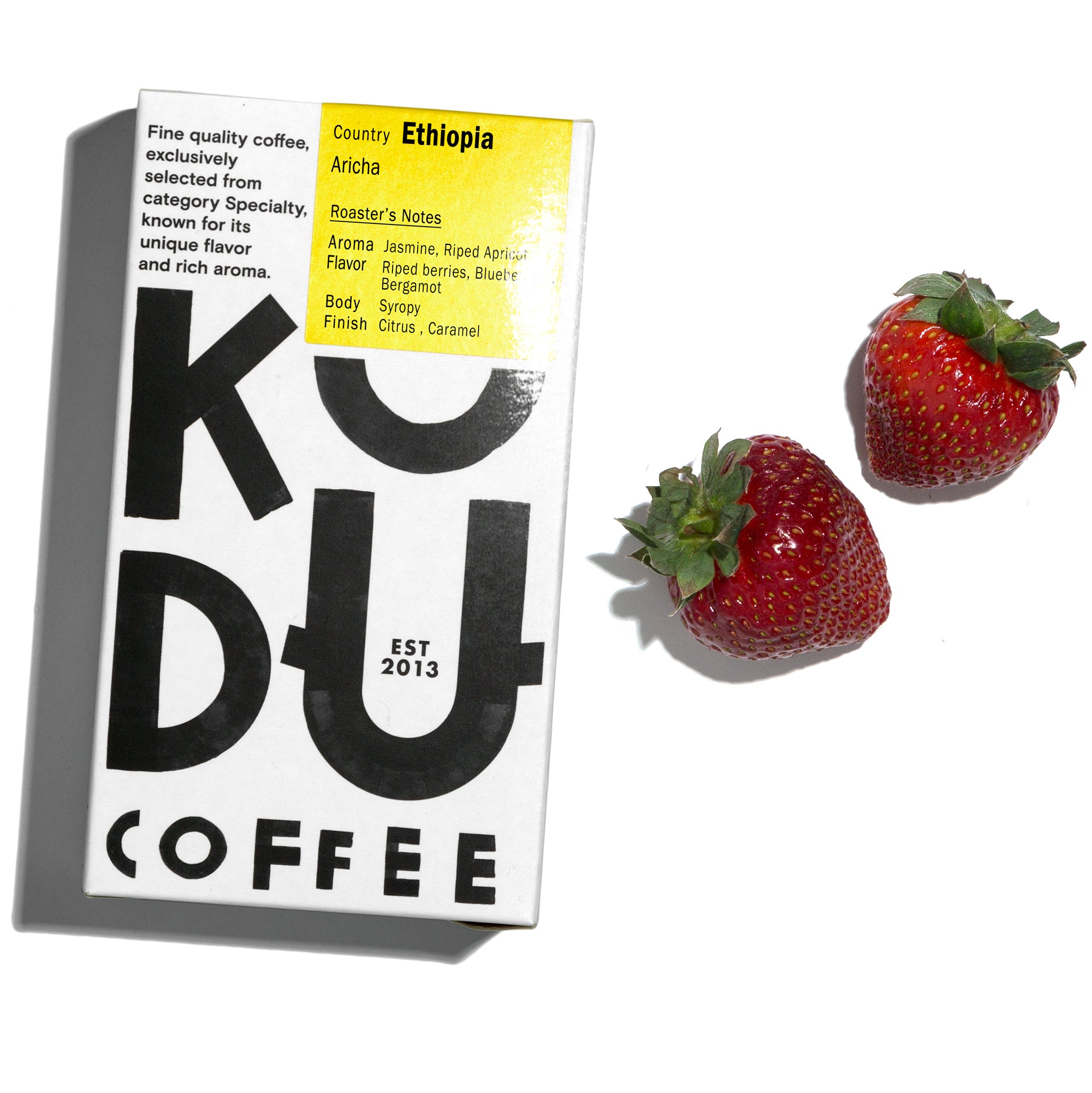 Ethiopia Aricha (250g)
Beautiful medium citric acidity, very well integrated, and a round velvety body. Notes of blueberry, citrus, jasmine, bergamot with a hint of caramel and red ripped fruits coming secondary. Aftertaste is bergamot citrusy and lingering.
FARM: Aricha
BEHIND PRODUCTION
When we first cupped this coffee, we were impressed by how clean tasting it was, considering that it was a sun-dried or natural processed coffee. For those of you who might have tasted coffees that are processed using this method, you would have noticed that they tend to have a distinct flavor that can range from "very fruity" to extremely funky and fermenty" type of taste, that is attributed to its processing method. On the same note, a good natural processed coffee can taste really sweet and fruity, while maintaining a good body and mild acidity, rounding up the cup nicely. And we think this is why we find this coffee so attractive.
This wet mill produces 20% natural sun-dried coffees and 80% washed. The producer is part of a project to do improved quality preparation of Grade 1 for both washed and the natural sun-dried.
The coffees used for the naturals are from the second half of the harvest. Mainly picked in December and January.
LOCATION
This coffee is from a private mill producing natural coffees in the local community of Aricha, in the highlands close to Yirgacheffe town. The unique flavor of the region together with well-processed naturals creates an unusual and super complex flavor profile. This producer is working closely for exports to increase quality through systematic work at the processing station. The cherries are from small family plots of both recently planted trees of improved varietals and traditional old varieties. Organic fertilizer is common, while pruning is less common.



Ethiopia Aricha arrived to our Roastery via Algrano.
Algrano combines technology and a service approach to importing in order to make coffee sourcing direct, sustainable and easy. They facilitate relationships between roasters and producers to support a blooming coffee industry.
ABOUT Aricha
PRODUCER:

Abye Family Business
TERROIR:

Woreda (District): Yirgacheffee
ALTITUDE:

1950-2050 m
PROCESS:

Natural
ARRIVED IN:

60kg Bags
VARIETIES:

Heirloom
AROMA:

Jasmine, Riped Apricot
FLAVOR:

Berries, Blueberries, Bergamot
BODY:

Syrupy
FINISH:

Citrus, Caramel
Process
Producing great natural coffees is challenging and it requires at least as much attention to details as producing good washed coffees. This producer is targeting the highest quality grades available, which is Grade 1. They have site collectors in the local villages carefully selecting the ripe cherries with better qualities, as well as the nearby farmers who deliver cherries to the mill.
The cherries are then hand-sorted for unripe and over-ripe cherries to get a sweeter and cleaner product. The natural coffee is normally processed at the later part of the harvest and that's when the harvest is peaking at the higher altitudes.
The first phase of drying is crucial and are in relatively thin layers on the tables to avoid fermented flavors and it should reach what's called the "raisin" stage at about 25% moist in a few days. It's important to move the cherries carefully to avoid damage on the fruit. In the second phase, from 25% to 12% moisture, the layers are built up, and it's constantly moved during daytime, and needs some rest mid-day and at night. Too fast drying will increase the very fruity flavors and make it unstable, but too slow drying can create mold and other off flavors. It's a costly process that requires good labor and attention if you want it at the highest quality levels.
$

$

You might also like

$

$