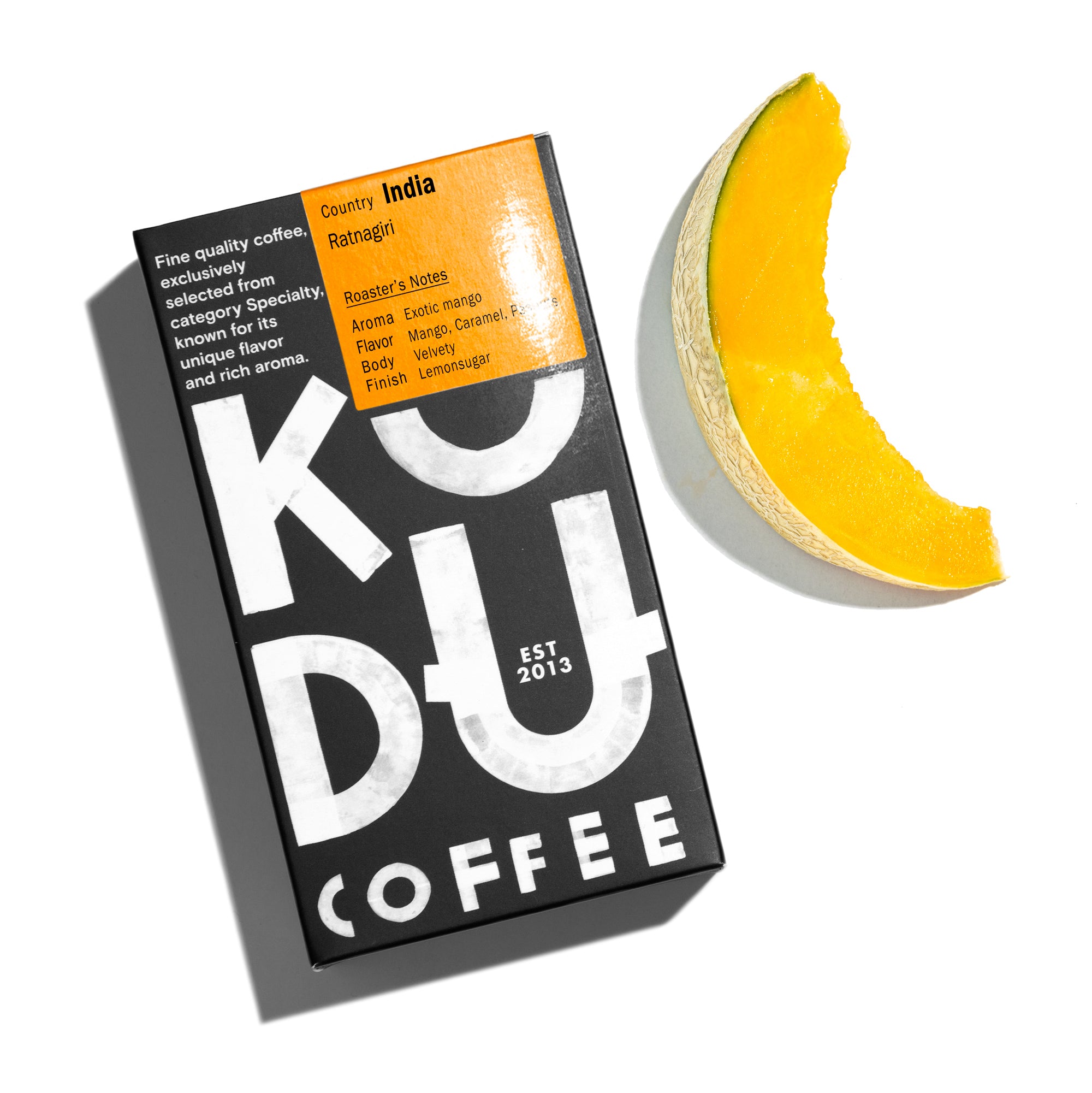 India Ratnagiri (200gr)
Complex, high-toned, resiny. Malt, mango, pomelo, baking chocolate, peanuts in aroma and cup. Brightly bittersweet structure with juicy acidity, plush, satiny mouthfeel. Perfumed finish with leading notes of lemon and pomelo.
FARM: Ratnagiri
BEHIND PRODUCTION
Estate is owned and operated Ratnagiri by Ashok Patre.
Located in a corner of the majestic Western Ghats of South India, near Bababudangiri, where Indian coffee was born, "Ratnagiri" literally means "pearl mountains".
In Ratnagiri, generations of the Patre family have dedicated their lives to coffee production since 1927, caring for a land that has rewarded their passion and perseverance. The farm reached new heights of quality after the decision to invest in modern farming technology in 2000. Since then, Ashok has continued to research and invest in the improvement of his farm, which has led to a continuous improvement in the quality of his coffee. The coffee from the Ratnagiri estate is highly prized by lovers of fine flavours.
LOCATION
Ratnagiri is an estate located in the majestic Western Ghats region of southern India, near Bababudangiri, the place of origin of coffee in India.
Rainforest Alliance Certified, the farm produces a variety of coffee varieties at an altitude of 1250 to 1450 meters above sea level and benefits from optimal conditions for growing coffee. It is in this rich and varied ecosystem, where fauna and flora flourish, that the Patre family cultivates several varieties of coffee: Cauvery, Catuai, SLN 9, SLN 6 and Hawaiian Red Caturra.
At an average altitude of 1000-1500 m and annual rainfall of 1750-2200 mm. The regional climate is mild with stable temperatures between 14 and 32 degrees.



About Ratnagiri
PRODUCER:

Patre Family
TERROIR:

Bababudangiri
ALTITUDE:

1150-1350 m
PROCESS:

Red Honey
ARRIVED IN:

69kg Grain Pro
VARIETIES:

Red Catuai
AROMA:

Exotic mango
FLAVOR:

Peanuts, Caramel, Mango
BODY:

Velvety, Smooth
FINISH:

Red Apple, Lemon
THE STORY OF THE PRODUCER
Since 1927, generations of the Patre family have dedicated their lives to farming. This family, which promotes engaged agriculture, has always placed ecology at the forefront of its work.
They have been innovators in investing in modern agriculture since the early 2000s and are constantly looking for improvements. This is why they invest in new equipment and in 2019 they acquired an ECOpulper which saves about 65% of water.
BEAN
In addition to the excellent environmental conditions of the farm, Ratnagairi Estate also follows strict quality standards.

The Catuai variety is a cross between the highly productive Mundo Novo and the compact Caturra, developed by the Instituto Agronomico (IAC) of the State of Sao Paulo in Campinas, Brazil. It is a very productive plant compared to Bourbon, especially because of its small size, which allows for a high planting density.
$

$

You might also like

$

$