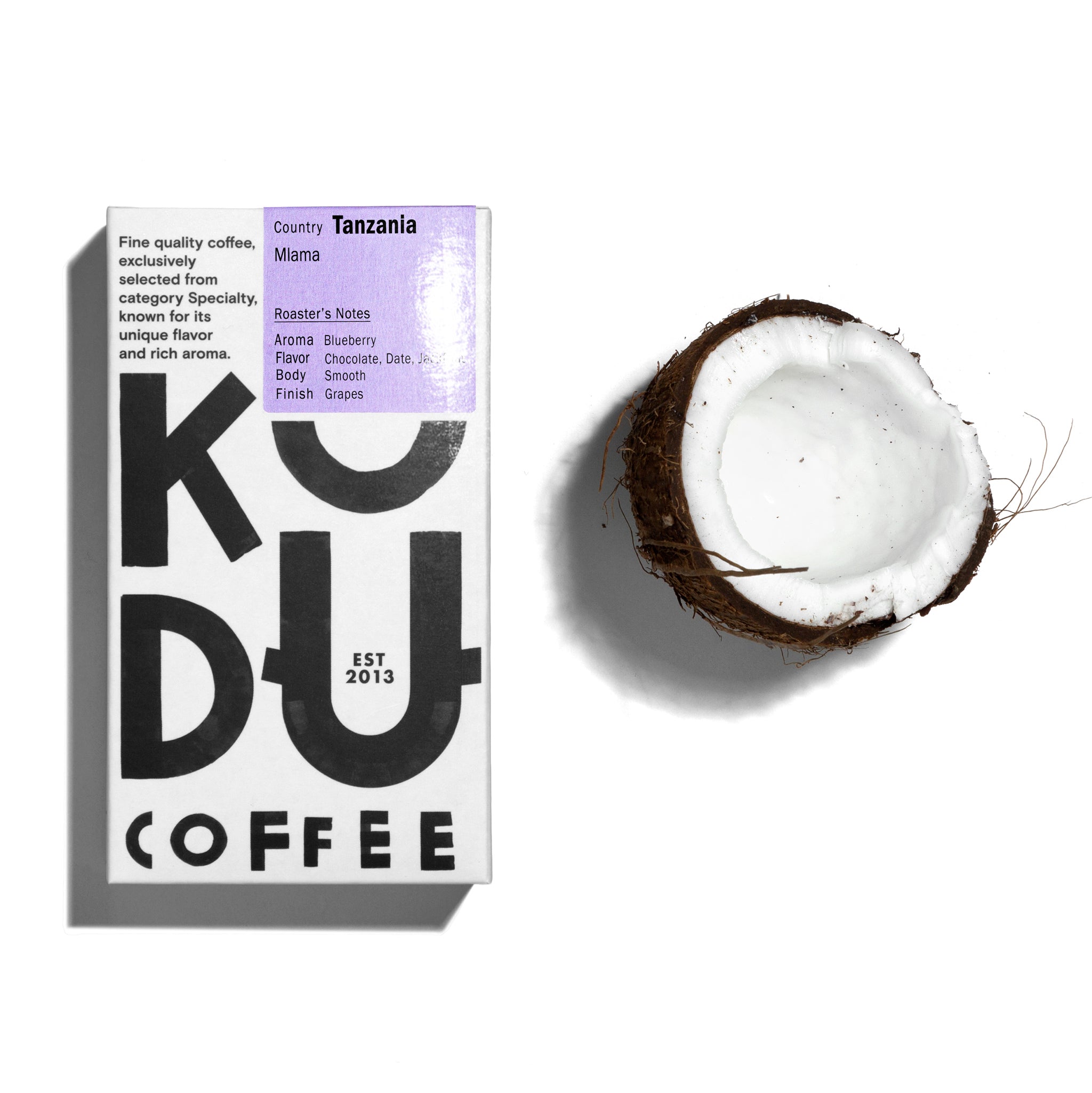 Tanzania Mlama (250g)
Crisp, bright, richly sweet-savory. Jackfruit, black cherry, blueberry, date, rhododendron-like flowers in aroma and cup. Balanced, vivid structure with sweetly tart, juicy acidity and buoyant, silky mouthfeel. Resonant and rich in the finish, where cocoa also surfaces, alongside notes of jackfruit and grapes in the short and vanilla-like florals in the long.
Farm: Mlama
BEHIND PRODUCTION
From the surroundings of Mount Kilimanjaro, Mlama Estate produces an excellent representation of eastern Africa arabicas coffees. The estate is owned and managed by African Plantation Kilimanjaro Ltd
LOCATION
Mlama estate enjoys a spectacular view of mountain Kilimanjaro and is adjacent to an area of great significance to the Chagga civilization

Kilimanjaro Plantation

Kilimanjaro Plantation is located at the southern slopes of Mount Kilimanjaro which provides ideal conditions for coffee production with its climate. Additional it has a rich soil in nutrients and access to numerous sources and rivers.

In 2000 to 2005 the entire plantation was replanted with 1 million new coffee trees. Each individual coffee tree is connected to a drip-line irrigation system, ensuring a sufficient water supply at all times.



This coffee arrived to our Roastery via Uschi Zimmerman. Uschi is a highly respected coffee sales manager in Europe and Lattore & Dutch. She also brings coffee from Panama through her company called Panama Varietals. The collaboration with Uschi started in 2015 and the Lattorre project in 2019.
ABOUT REGION
REGION:

Moshi, highlands of Kilimanjaro, North-East Tanzania
ALTITUDE:

1400 m
PROCESS:

Washed
ARRIVED IN:

30kg Grain Pro
VARIETIES:

Kent, N39, Bourbon
AROMA:

Blueberry, Rhododendron-like
FLAVOR:

Milk chocolate, Blueberry, jackfruit
BODY:

Smooth
FINISH:

Grapes
Since 2009, Kilimanjaro Plantation has owned a drying plant with 9 drums of different sizes, with a total capacity of 111m³. The drying system offers a helpful alternative in case of bad weather phases compared to the drying of the coffee beans on drying tables.

In regards of social and environmental aspects Kilimanjaro Plantation orients on the UTZ standards which are continuously and conscientiously reviewed.

In regards of employees:

• Kilimanjaro Plantation is based on international labor standards, therefore, the working conditions for farm employees are better than the common national standards.

• Adequate accommodation is provided to all employees who live on the farm.

• For all activities in the coffee fields, the employees are trained in advance.

• All employees are equipped with appropriate protective clothing to ensure a safe working environment.

• Training programs as well as "training on the job" allow for a deeper understanding of coffee cultivation to be developed. In this way, we promote the transfer of knowledge between Kilimanjaro Plantation and neighboring small holder farmers, of whom many work on the estate.

In regards of environment:

• By installing a drip-line irrigation, we can reduce water consumption by up to 60% compared to conventional sprinkler irrigation.

• In order to remove as little water as possible from the natural water sources during the dry periods, two water dams were installed.

• In cooperation with German experts, a special water treatment plant has been designed to enable us to clean the water that is contaminated during wet processing, allowing it to be recycled.

• We keep river reserves in their natural state and try to protect them from illegal clearing and cultivation.

• In order to stabilize the microclimate, we have planted more than 10,000 trees – an activity which we will continue in the future.

$

$

You might also like

$

$