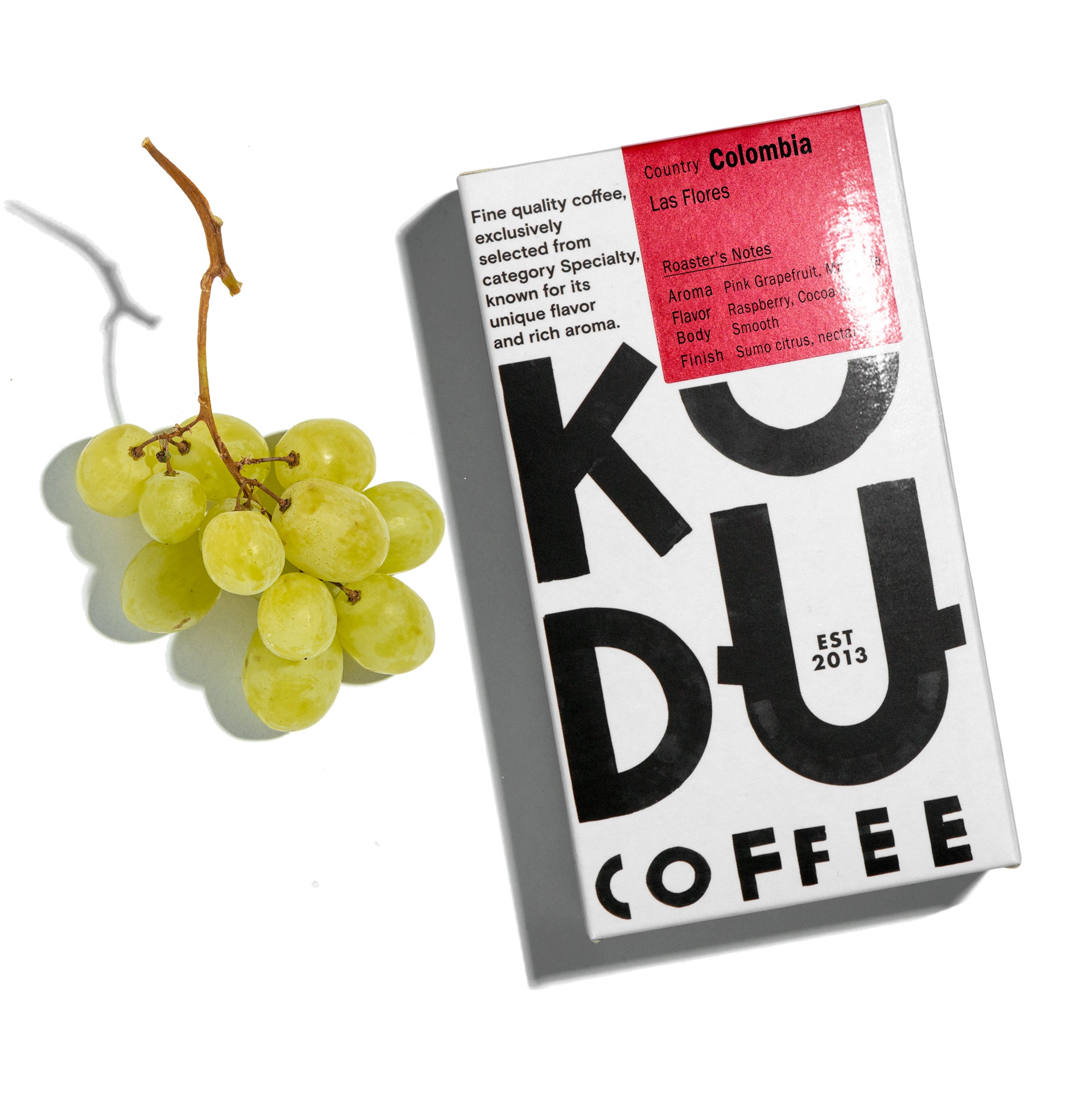 Colombia Las Flores (250g)
Very intense aroma & flavor to lychee, Magnolia pink grapefruit with caramel, sumo citrus, cacao nibs, nectarine, watermelon & dark chocolate. Medium silky body and fruity acidity with high complexity in the aftertaste.
FARM: Las Flores
BEHIND PRODUCTION
Finca Las Flores is one in a group of five farms that have banded together for the greater success of each producing family. This tight-knit collective in the Pitalito area collaborates closely in everything from agronomy and processing innovations, through to marketing networks and community get-togethers.
Las Flores began with 2 hectares mixing Caturra and Colombia variety coffee trees (some
18,000 in total planted) when Edilberto Vergara and Nubia Ayure arrived, moving the family from Cundinamarca to Acevedo in 1990. As their three boys grew up, they became instrumental in the Las Flores production. Eldest
Carlos with youngest Diego runs most logistics for the farm on the ground. Whilst middle son, Johan, has brought his experience from working with other celebrated producers to direct processing decisions at Las Flores and having an
extraordinary impact on the qualities being achieved.
Since 2006, the family have gradually built on their traditional beginnings with the introduction of alternative varieties for the region, such as Chiroso, Java,
Pacamara, Pink Bourbon and Tabi. Currently, Las Flores spans over 14 hectares with 90,000 trees, whilst always retaining a dedicated natural reserve to
protect its biodiversity.
LOCATION
Huila

The Colombian Department of Huila is located in the southern portion of the country where the Central and Eastern ranges of the Andes mountains converge. Huila's capital city of Neiva is dry, flat, and desert-like, markedly different from the coffee regions further south.

Centered around the city of Pitalito, Huila's coffee farms are predominately smallholder owned and over the past ten years have made consorted efforts to produce specialty coffee that reveals the full character of the region's terroir. Selective manual harvesting, attentive processing, and careful post-harvest sorting all contribute to increasing recognition of the region.



We got to know Colombia Las Flores via Col Spirit. Col-Spirit focuses on Colombian specialty coffee, offering fully traceable coffees with unique identities. They prioritize single-origin and single-farm beans.

Their coffee is sourced from various family farms, some of which have a tradition and experience spanning over 100 years. These families are eager to showcase their exceptional coffee to the world, but often lack the necessary resources to pursue their dreams. To support them, Col-Spirit purchases the coffee directly from the farms.

They avoid intermediaries, cooperatives, and coffee agencies that primarily prioritize their own interests.
Col-Spirit is committed to educating farmers through workshops, helping them enhance their processes for picking, selecting, washing, and drying coffee beans. Furthermore, they meticulously cup and profile their coffee to ensure that customers receive the finest Colombian coffee available.
About Las Flores
PRODUCER:

Edilberto Vergara
TERROIR:

Huila
ALTITUDE:

1800m
PROCESS:

Anaerobic Natural
ARRIVED IN:

24 kg boxes
VARIETIES:

Bourbon Sidra
AROMA:

Pink Grapefruit, Magnolia
FLAVOR:

Raspberry, Cocoa nibs
BODY:

Smooth
FINISH:

Sumo citrus, nectarine
Sidra bourbon (also goes by Sydra or Sidra) is one of the latest in Vergara's experimental varieties. Thought to have its origins in Ecuador as a natural mutation of Red Bourbon and Typica.

In the cup, we experience both the body and sweetness of red bourbon as well as the complexity and acidity associated with Typica.
$

$

You might also like

$

$