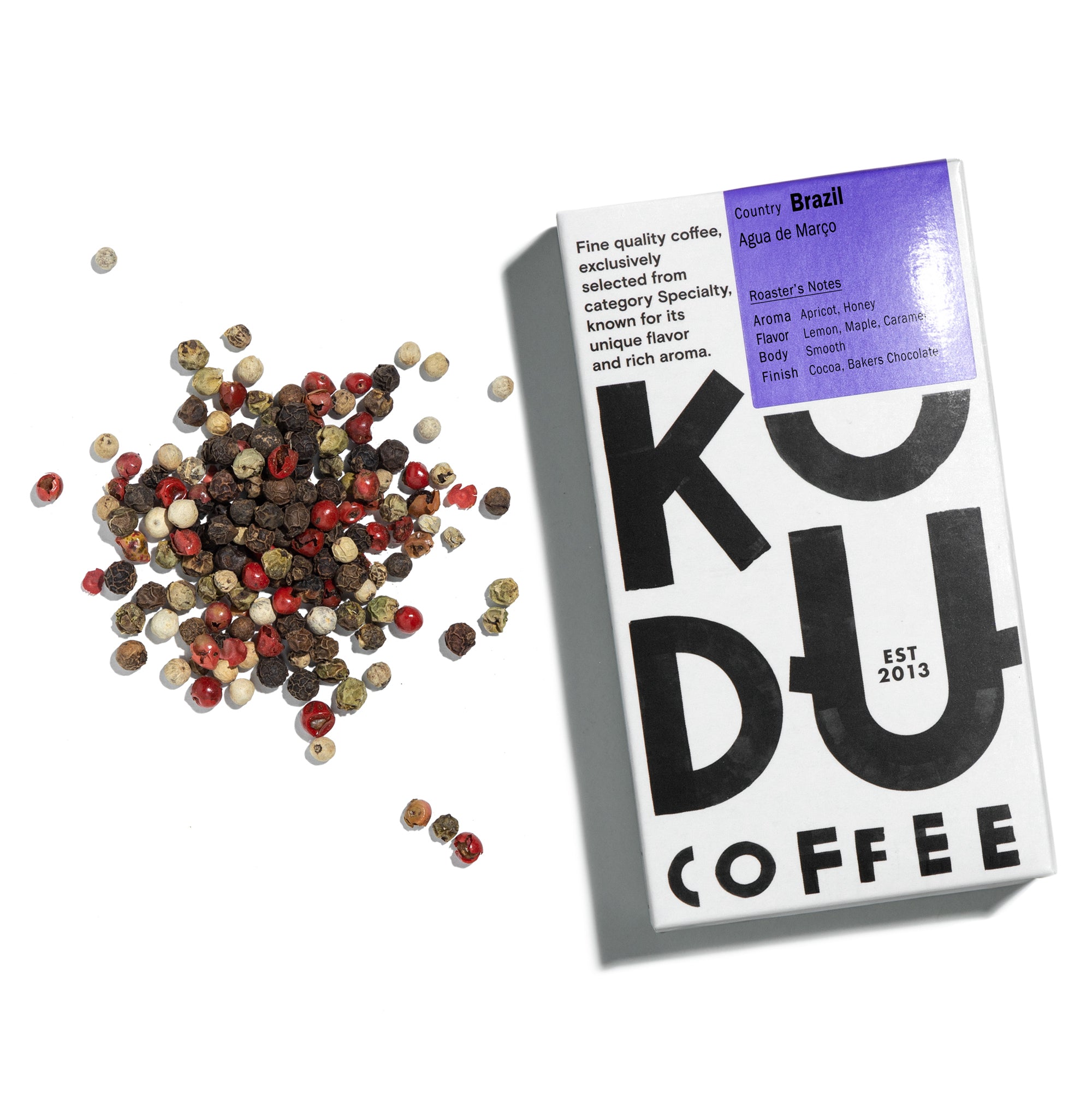 Brazil Aqua de Marco (250g)
Very sweet and chocolate. Walnut, bakers chocolate, cacao, apricot, honey, lemon, maple in aroma and in the cup, where the honey sweetens and rounds toward chocolate. Quiet, backgrounded acidity and syrupy mouthfeel.
FARM: Minas Gerais
BEHIND PRODUCTION
In 1879, José Carlos' grandfather, Antônio Grossi, emigrated from the Veneto region in Italy to Brazil with the objective of working on the coffee plantations in the state of São Paulo. Years later, in 1950, Antônio's son and José Carlos' father, Matheus Grossi, decided to invest in a small coffee plantation in the north-west of Paraná. Born inside São Paulo, in the city of Garça, José Carlos, whenever he could, helped his father in the farm and thus joined the ESALQ / USP agricultural school in 1966 to deepen these knowledge of coffee growing.
José Carlos Grossi leaving his father's fields in Paraná in 1972 to embark on his first coffee plantation in the unknown region of Cerrado Mineiro. With his savings of $ 10,000, he launched the beginning of the history of the JC Grossi & Filhos company on this unknown land. In 1991, his efforts paid off. Concerned about obtaining constant quality in production, José Carlos has adopted a strategy of verticalization of production activities, which has enabled him to improve the quality control and traceability of the coffees produced. Added to this is research work to adapt production to the Cerrado. In 1994, the Group set up an experimental plot.
LOCATION
The Sul de Minas region is, as its name suggests, the southern area of the greater Minas Gerais region. Known as one of the largest coffee producing regions in Brazil, the Sul de Minas region is a traditional production area for Arabica coffee (introduced in the 1850s), accounting for about 30% of national production. A hilly region with a mild climate and average altitudes of 850, this region has some of the largest coffee-producing estates in Brazil. The main varieties grown here are yellow Catuaí and Mundo Novo.



About Aguas de marco
PRODUCER:

Grossi Family
TERROIR:

Minas Gerais
ALTITUDE:

1200 m
PROCESS:

Mix Washed , Natural
ARRIVED IN:

60kg Bags
VARIETIES:

Yellow Catuai
AROMA:

Cacao, Chocolate
FLAVOR:

Lemon, Maple, Apricot
BODY:

Smooth
FINISH:

Cacao, Citrus
Since 2005, they have been UTZ and Rainforest Alliance certified.
Grown at an altitude of 970 meters above sea level, this coffee is a yellow catucai. We called it Aguas de Março because it is fully washed processed and it is quite rare in the Cerrado region.
The water used in the Fully Washed process is used in an ecological way, as it is treated and recycled in settling tanks. The recycled water returns to the mill and is used on the Pulped Naturals, the residual and solid water is used in the farm as fertilizer.
$

$

You might also like

$

$