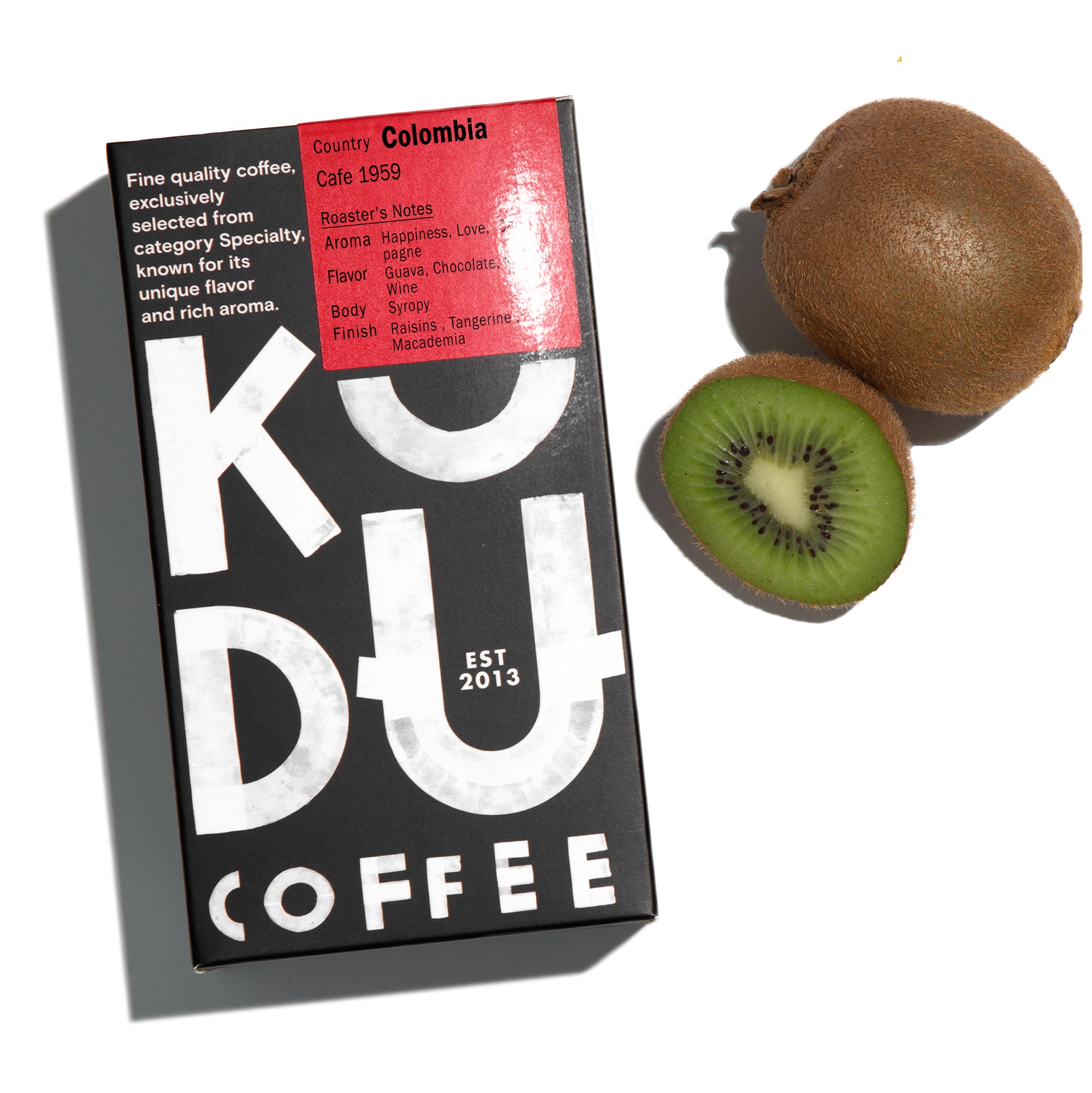 Colombia Cafe 1959 (200g)
A fruity explosion of Candied cherry, Picked watermelon, Berry kombucha, Champagne, Guava, Tangerine and macadamia nuts. Syropy body that turns into velvety as the coffee cools with medium to high complex citric, malic and tartaric acidity. Joy and happiness in the aftertaste!
FARM: Cafe 1959
BEHIND PRODUCTION
Jose Giraldo and his team at Cafe 1959 have underscored what it means to be passionate about coffee in a big way. Consistently disrupting status quo and discovering new, innovative, incredible flavors - the likes of which we never knew existed within these magical little beans.

At the culmination of the meticulous growing process, Jose and his team (Ruben is the head of operations caring for us at every step!) process these perfectly ripe pink bourbon cherries for 360 hours in a SCOBY kombucha style fermentation continually adding oxygen. The cherries are then dried on African raised beds and finally processed at Finca Santa Clara under the watchful eye of Cafe 1959.
LOCATION
Quindío (Spanish pronunciation: [kinˈdi.o]) is a department of Colombia. It is in the western central region of the country, crossed by the Andes mountains. Its capital is Armenia. It is famous for the quality of the coffee plantations, colorful architecture, benign weather, variety of hotel accommodations and tourist landmarks. This department is located in a strategic area, in the center of the triangle formed by the three main cities of the country: Bogotá, Medellín and Cali. Quindío is the second-smallest Colombian department (0.2% of the national territory) with 12 municipalities. Ethnographically and culturally, it belongs to the Paisa region.

The Las Marias Estate sits at an altitude of 1500m within the forests of the Andes Mountain Range. On the farm, they have planted only rare and exotic varieties.



We got to know Colombia Las Flores via Col Spirit. Col-Spirit focuses on Colombian specialty coffee, offering fully traceable coffees with unique identities. They prioritize single-origin and single-farm beans.Their coffee is sourced from various family farms, some of which have a tradition and experience spanning over 100 years. These families are eager to showcase their exceptional coffee to the world, but often lack the necessary resources to pursue their dreams. To support them, Col-Spirit purchases the coffee directly from the farms.They avoid intermediaries, cooperatives, and coffee agencies that primarily prioritize their own interests.Col-Spirit is committed to educating farmers through workshops, helping them enhance their processes for picking, selecting, washing, and drying coffee beans. Furthermore, they meticulously cup and profile their coffee to ensure that customers receive the finest Colombian coffee available.
About Cafe 1959
PRODUCER:

José Giraldo
TERROIR:

Quindio
ALTITUDE:

1500m
PROCESS:

Natural - Kombucha- Yeast
ARRIVED IN:

24 kg Boxes
VARIETIES:

Pink Bourbon
AROMA:

Happiness, Love, Champagne
FLAVOR:

Guava, Chocolate, Malbec Wine
BODY:

Syrupy
FINISH:

Raisins , Tangerine , Macademia
Jose is a 3rd generation coffee producer and the family has been growing coffee for over 50 years. His father (who has a Ph.D. in food engineering) was the driving force behind researching the effects of different processing methods and logging them in the lab.

Jose carried on this interest and has designed a series of his own methodology for processing coffee. He implements these methods on both coffee they grow at the family estate, Las Marias, as well as with cherries they buy from partner farms across Colombia.
$

$

You might also like

$

$