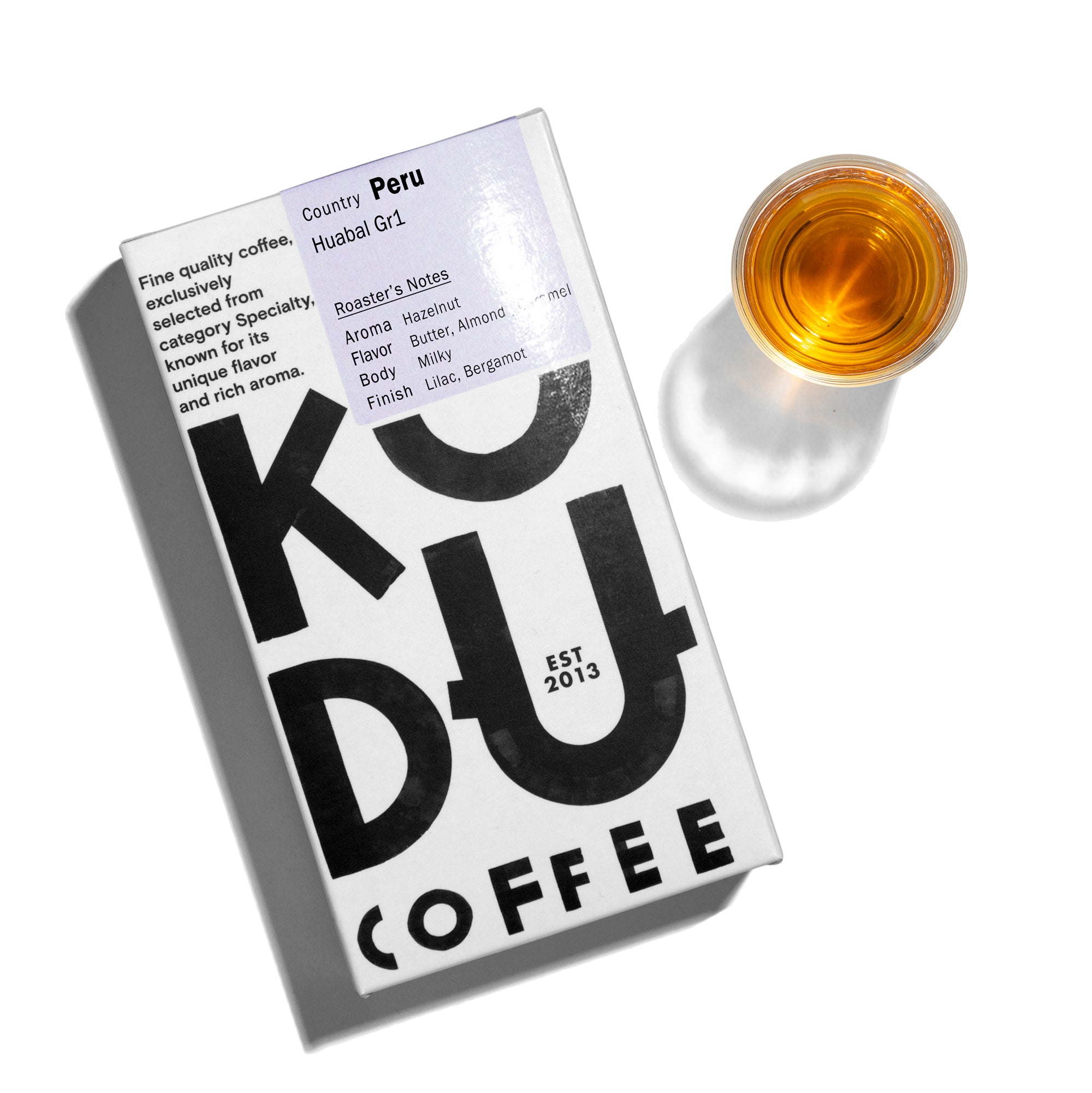 Peru Huabal Gr1 (250g)
Hazelnut, butter, tea, chocolate, almond and caramel  in the aromas and flavor. Juicy bright acidity. Smooth and round. The sweet tart finish resonates with lilac, bergamot and sweet wallnut notes.
FARM: Huabal
BEHIND PRODUCTION
This coffee is a certified organic blend, it is produced from the coffees of six small farms, called "cafetales". The coffees are produced from the catimor, caturra, typica and pache varieties, a mutation of Typica. Its name pays homage to the majestic Andean Condor.

In the Cajamarca region, there are several micro-regions or terroirs, this coffee comes from the Huabal region.
LOCATION
THE TERROIR OF HUABAL
The land of Huabal is located in the province of Jaén in the Cajamarca region, in the extreme north of Peru near the Ecuadorian border. Coffee producers often have plots of less than 2 hectares. The low volumes of coffee produced make it impossible to export coffee as an independent producer.
As a result, the producers have united to form a cooperative to export. This coffee includes the production of 6 coffee growers in the area, located at high altitude. Prepared by the producers themselves, the coffee is sold to the cooperative in parchments, then they made the parchment processing and sorting.



About Huabal Gr1
PRODUCER:

Coopagro
TERROIR:

Cajamarca
ALTITUDE:

1300-1900 m
PROCESS:

Washed
ARRIVED IN:

69kg Grain Pro
VARIETIES:

Pache, Typica
AROMA:

Hazelnut, Butter
FLAVOR:

Caramel, Almond
BODY:

Velvety
FINISH:

Lilac, Bergamot
Peru is the 8th coffee producing country in the world and exports nearly 90% of its production. The vast majority of its coffees are produced by small producers certified in organic farming. This coffee is no exception to the rule and comes from Jaen, a town located in the Cajamarca region in northwestern Peru.


THE REGION OF CAJAMARCA
Jaén is a city located in the Cajamarca region in northwestern Peru. It is a fairly poor region because it is isolated from the major Peruvian agglomerations. Very mountainous area, the main economic resource is agriculture with rice, cocoa, corn, mango, avocado and of course coffee production. There are also many guinea pig farms. Many terroirs overlook the city, such as the Huabal and La Palma central terroirs.
$

$

You might also like

$

$