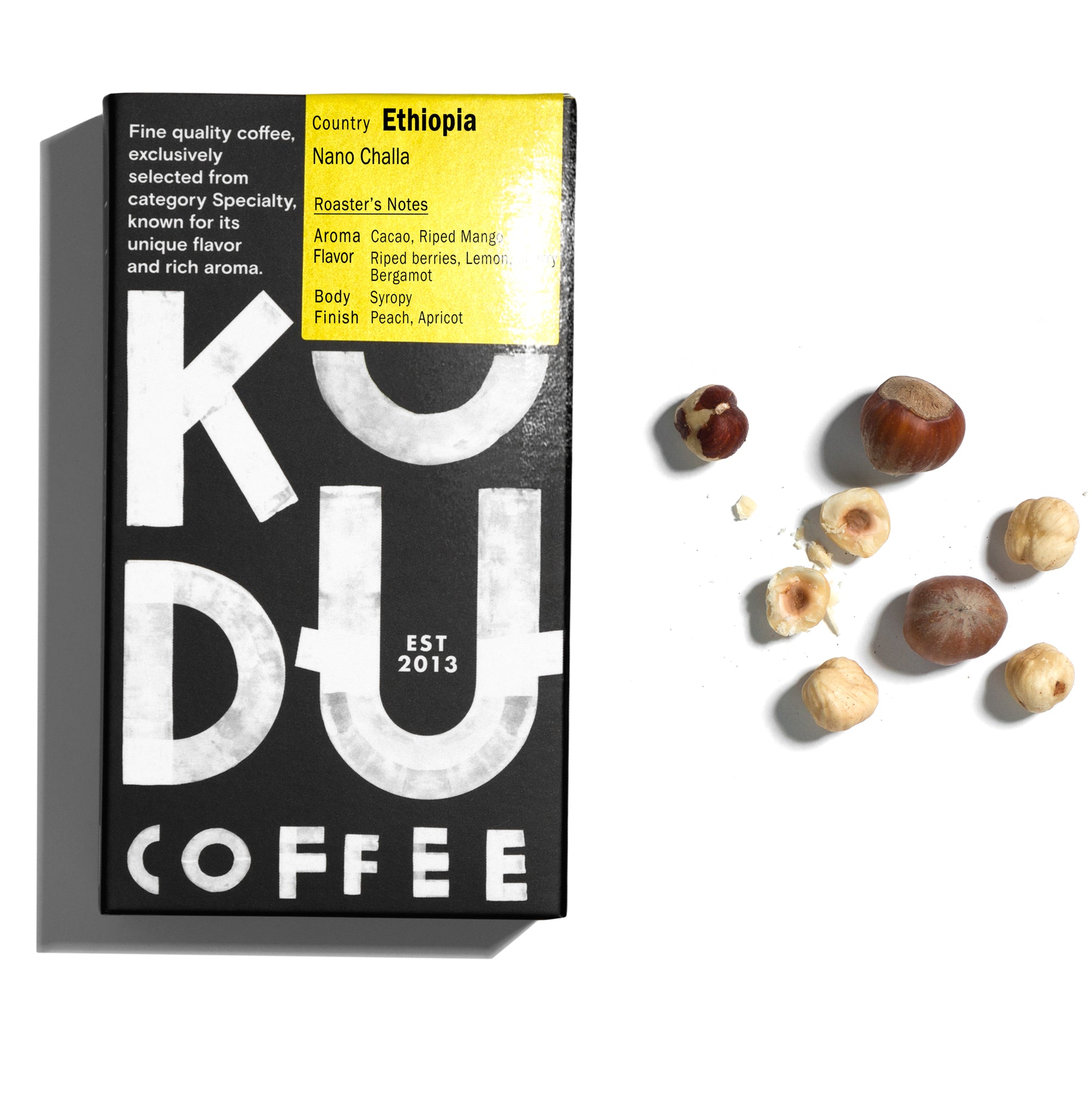 Ethiopia Nano Challa 200 gr
Pungent aroma of mixed fruit, riped mango, green tea and cacao. These aromatic notes grow more intense and complex in the cup, displaying flavors of white cherry, lemongrass and bergamot. The fruit notes, berry, stone fruit, citrus and black currant, become more prominent as the cup cools, persisting in a long, flavor-rich finish of floral roses and peach.
FARM: Kara Muduga
BEHIND PRODUCTION
Nano Challa is a primary cooperative part of Kata Muduga Multi-purpose Farmer's Cooperative Union. The Union is based at Agaro town, 45 km from Jimma, the largest city in southwestern Oromia Region in Ethiopia, and 397 km from Addis Ababa, the capital of Ethiopia. Kata Muduga works with farmers from 5 rural districts in the Jimma zone: Goma, Gera, Gumai, Setema, and Sigimo. The general manager and representative of the Union is Asnake Nigat.
The Nano Challa Cooperative was established in 2004 by 25 farmer members from the Agaro town in the Jimma Zone, Oromia. The founder members formed the group in order to foster unity and to find good buyers for their coffees, alleviating debt and improving standards of production. Jimma was an area that had become synonymous with 'Jimma 5', a low quality natural processed commercial type of coffee that fetches minimal prices on the internal and international market. Members of Nano Challa set themselves to change that.
LOCATION
Nano Challa, located at the Gendi Challa kebele, is among the better-known names of Jimma coffee and this Limu Grade 1 (Limu is the grade given to Fully Washed lots in this zone and also the name of Jimma's coffee growing region) has all the desired attributes of the region on the cup: bright citric acidity, crisp florals and tea-like notes.



Ethiopia Nano Challa arrived to our Roastery via Algrano.
Algrano combines technology and a service approach to importing in order to make coffee sourcing direct, sustainable and easy. They facilitate relationships between roasters and producers to support a blooming coffee industry.
About Nano Challa
PRODUCER:

Muduga
TERROIR:

Yirgacheffe
ALTITUDE:

2000 m
PROCESS:

Washed
ARRIVED IN:

60kg grain pro bags
VARIETIES:

Heirloom
AROMA:

Ripe Apricot, Jasmine
FLAVOR:

Bergamot, Lemon, Cherry
BODY:

Syrupy
FINISH:

Peach, Apricot
THE VARIETY
Ethiopian Heirloom, why the generic name? It's estimated that there are somewhere in-between six and ten thousand coffee varietals in Ethiopia. And due to this colossal figure, there hasn't been the genetic testing to allow buyers to distinguish the varietal. With the cross pollination that naturally happens in the wild, the name 'Ethiopian Heirloom' exists as a catch all phrase to describe this happenstance. However, that really makes Ethiopian quite a mystery – and an interesting mystery with that as each village or town could potentially have a different varietal which could carry unique properties.
THE FERMENTATION PROCESS
Washed coffees focus solely on the bean. They let you taste you what's on the inside, not the outside. Washed coffees depend almost 100% on the bean having absorbed enough natural sugars and nutrients during its growing cycle. This means the varietal, soil, weather, ripeness, fermentation, washing, and drying are the key.

Washed coffees reflect both the science of growing the perfect coffee bean and the fact that farmers are an integral part of crafting the taste of a coffee bean. When looking at washed coffees, it becomes apparent that the country of origin and environmental conditions play a vital role in adding to the flavor.

During wet processing, the pulp (i.e., The exocarp and a part of the mesocarp) is removed mechanically. The remaining mesocarp, called mucilage, sticks to the parchment, and is also removed before drying. During this process, the sugars present in the mucilage are removed through natural fermentation or mechanical scrubbing. Mucilage is insoluble in water and clings to parchment too strongly to be removed by simple washing. Mucilage can be removed by fermentation followed by washing or by strong friction in machines called mucilage removers. Fermentation can be done by stacking the coffee outside or placing them under water and allowing nature to take its course. After the sugars are removed, the beans then can be taken through a secondary washing to remove any additional debris or taken immediately to the beds for drying.
$

$

You might also like

$

$