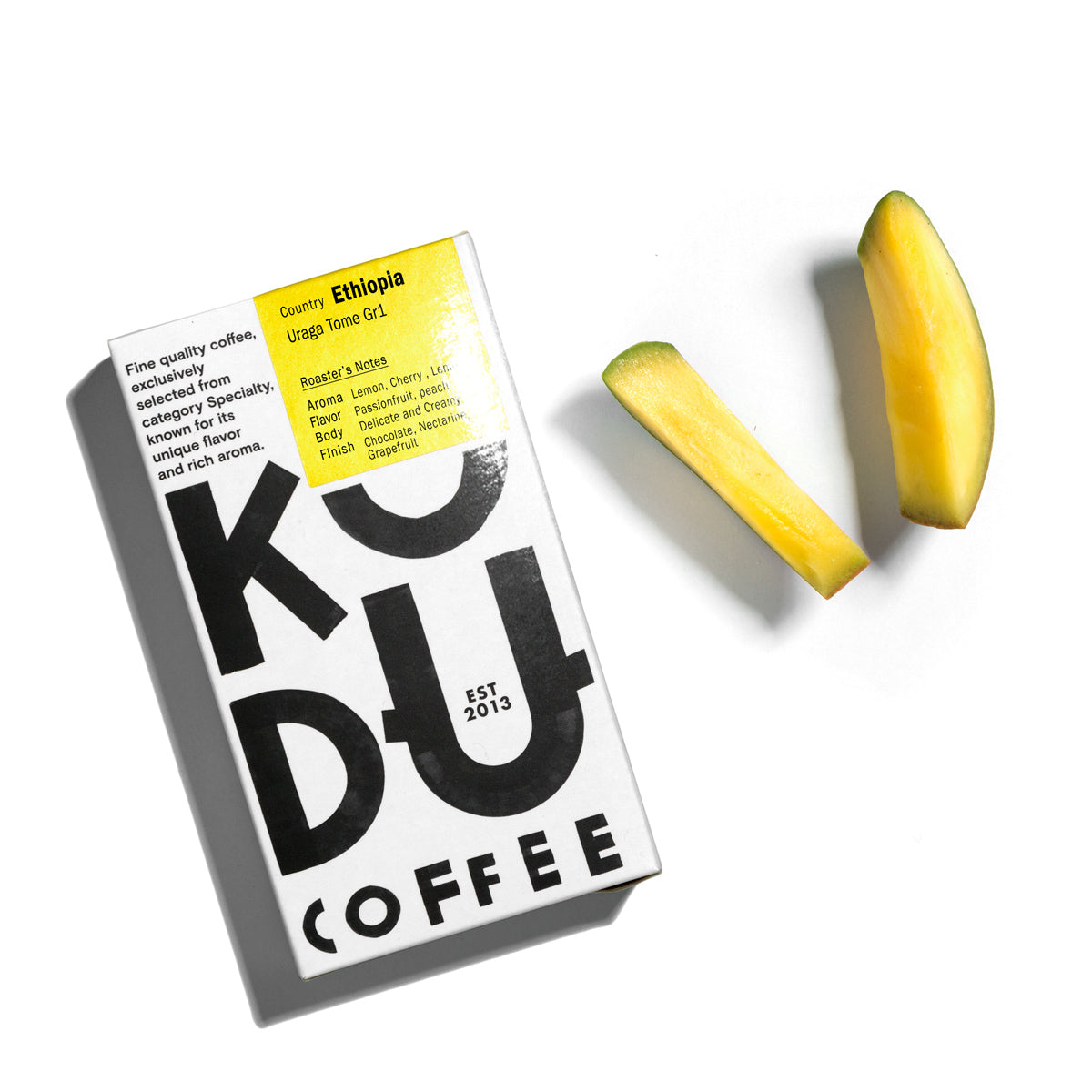 Ethiopia Uraga Tome Gr1 (250g)
Bright, richly floral. Jasmine, lemon, passionfruit, almond nougat, peachn nectarine in aroma and cup. Sweet-tart structure with bright, juicy acidity and full, satiny mouthfeel. The satisfying finish leads with notes of jasmine and grapefruit in the short, rounding to almond nougat and chocolate in the long.
FARM: Uraga
BEHIND PRODUCTION
Farming methods in the region remain largely traditional. Guji farmers typically intercrop their coffee plants with other food crops. This method is common among smallholders because it maximizes land use and provides food for their families.
In addition to remaining traditionally intercropped, most farms are also organic-by-default. Farmers in Guji typically use very few — if any — fertilizers or pesticides. Most farm work is done manually by the immediate family.
To capitalize on the magnificent climate, Uraga washing station provides training to help farmers produce better quality cherry. Training focuses on procedures for harvesting and transporting cherry.
LOCATION
Uraga washing station receives cherry from farmers in the surrounding region. The station is located in Guji, a coffee growing region that was once part of Yirgacheffe but whose microclimate produces such unique coffee, that it was allocated as its own coffee growing region.



This coffee arrived to our Roastery via Moplaco . Having lived abroad most of her life, Heleanna fell into coffee in 2008 through the force majeure of destiny. She has been riding the third wave of coffee through rough seas but has finally dived into the clear blue waters. Moplaco expanded both down and up the chain of coffee and now controls processing, and with it, experimentation; farming and with it, hardship; exporting with all its drama; and finally roasting, and with it fun.
About Uraga Tome
PRODUCER:

Tadesse Edema
TERROIR:

Guji
ALTITUDE:

1900 m
PROCESS:

Natural
ARRIVED IN:

30kg Yute Vacuum
VARIETIES:

Jarc, Heirloom
AROMA:

Lemon, cherry
FLAVOR:

Jasmine, passionfruit, peach, Nectarine
BODY:

Creamy and Satiny
FINISH:

Nougat, Nectarine, chocolate
Producer
Tadesse is a community leader and has built schools and roads in the region. In addition to washing stations, he owns two farms - one in Shakiso and another in Anasora. During the ten years when the Ethiopian Commodity Exchange (ECX) restricted direct exports, Tadesse delivered his lots to the regional warehouse where traceability was obscured.
Process
Farmers selectively handpick ripe cherry and deliver it to Uraga. Cherry is hand sorted at intake, pulped, and fermented for 48 hours. After fermentations, parchment is washed and then soaked in clear water before being brought to the raised drying beds where it will sundry for approximately 18 days.
Grades
Grades in Ethiopia depend on visual inspection for defects and on cup quality. Grade 1 is considered the highest quality coffee. Grades 1 and 2 are considered specialty coffee, grade 3-9 are classified as commercial coffee. Grade 1 is free of cup faults and taints and has zero quakers.
Coffee in Ethiopia
While Ethiopia is famous as coffee's birthplace, today it remains a specialty coffee industry darling for its incredible variety of flavors. While full traceability has been difficult in recent history, new regulations have made direct purchasing possible.
$

$

You might also like

$

$