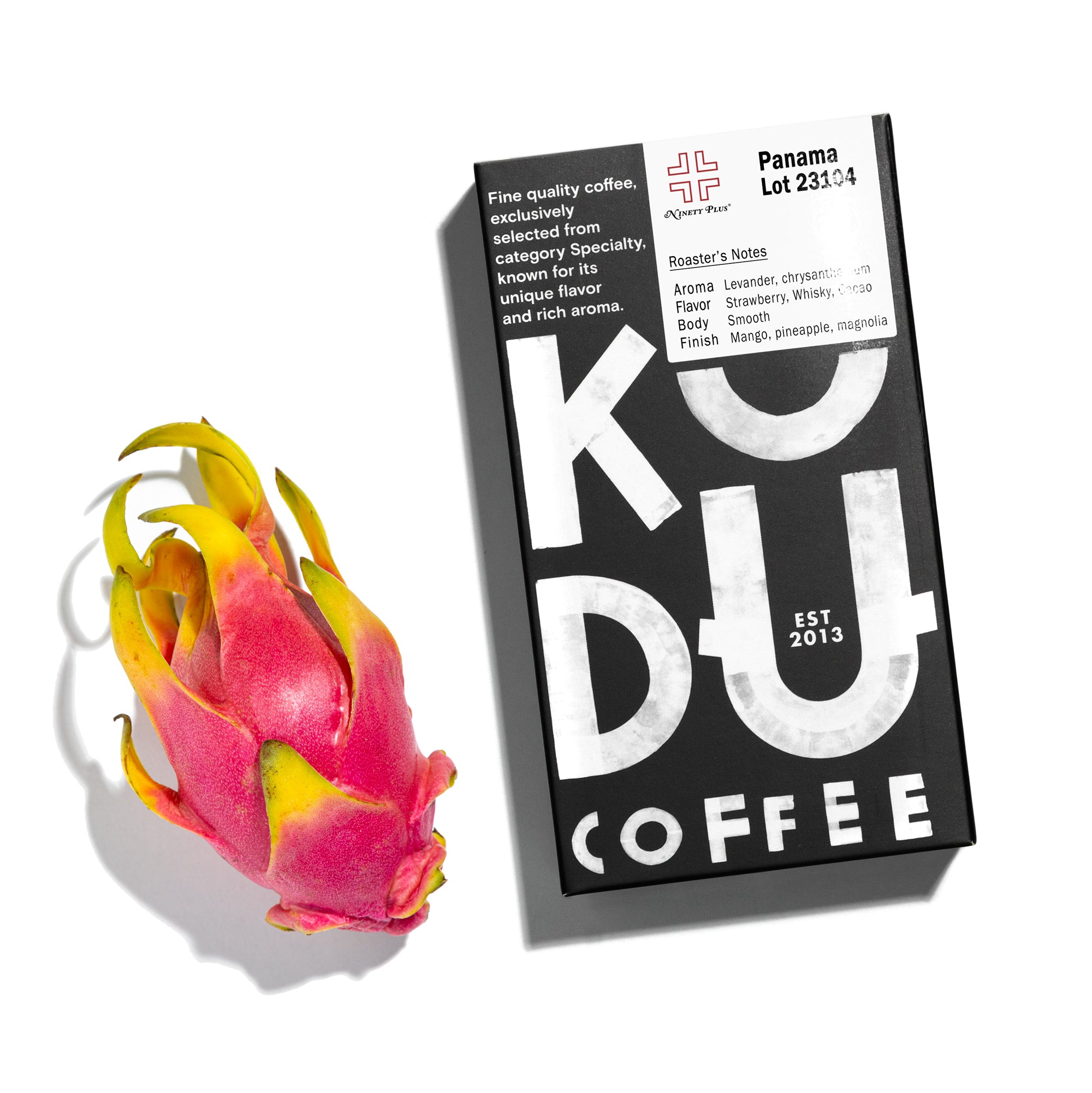 Panama 90+ Lot 23104 (200g)
This exquisite coffee offers a sensory journey like no other. Delight in the aromatic notes of lavender and chrysanthemum, while savoring the rich flavors of whiskey-infused lemon and deep cacao. Its velvety texture caresses the palate, leaving a tantalizing aftertaste reminiscent of tropical mango, pineapple, and the delicate touch of magnolia blossoms. A harmonious symphony of flavors in every sip.
FARM: Ninety Plus Gesha Estates
BEHIND PRODUCTION & HUMANITY
This lot was harvested on the 18th of January 2023 from our Estate #56, located on the western side of Gesha Estates at an elevation of 1,440 meters, with a total area of 0.83 ha. The trees on this estate are ten years old. Processing this coffee is a twist to our traditional Natural process, using Saccharomyces Cerevisiae yeast in the fermentation. (Yeast Natural). Coffee was dried for 26 days in Red Room, three days as a single layer, then combined to dry at 3 cm depth and hand stirred throughout the day for an additional 23 days.

For centuries, traditional coffee farm workers have lived impoverished lives and suffered from low wages and belittlement in the workplace. Ninety Plus challenges these standards by making humanity a priority, providing fair pay and living conditions for its growing workforce, and establishing a culture built on taste, education, and collaboration on its farms. With education at the center, we create new opportunities, incentives to advance, and competitive compensation for our employees. Subsequently, our workers gain ownership over their work, their quality of life and happiness improve, and our coffee excels. With this structure, we've constructed an expanding community of farm workers who are united and inspired by the common objective to improve coffee.
ECOLOGY
Ninety Plus recognizes the importance of reforesting and preserving agricultural lands. When we first launched our operation, we knew that we could become an example for the rest of the world by shattering the boundaries of traditional commodity coffee farming. As a result, we set our sights on formulating a distinctly unique coffee experience, entered into a relationship with nature, and put the spotlight on ecology. Presently, we're dedicated to growing long-living, heirloom varieties that thrive under 100 percent natural management techniques, conserve biodiversity, and maximize the health of the ecosystem and its inhabitants.

We cultivate shade-loving plants at low-density areas with native forest canopy trees and consistently achieve exceptionally flavorful coffee varieties. Yet, the reward goes beyond the coffee itself. Today, the vegetation and animals are flourishing, and what was once overgrazed farms are now prosperous forests that are sustained by restoration, topsoil and water retention, increased environmental variance, and a community of residential and seasonal workers.



KUDU's collaboration with Ninety Plus Gesha Estates started on 2017 years ago. But the relationship became more closed when we visited the farm in 2019 and started a direct trade relationship focusing on creating unique coffees for our customers with them.
About Lot 23104
PRODUCER:

Joseph Brodsky
TERROIR:

Baru Volcano
ALTITUDE:

1400-2050 m
PROCESS:

Natural Yeast
ARRIVED IN:

5 Kg Vacuum Sealed Bags
VARIETIES:

Gesha
AROMA:

Chrysanthemum
FLAVOR:

Strawberry, Whisky Chocolate, Cacao
BODY:

Velvety
FINISH:

Magnolia
Taste

Ninety Plus believes in the power of taste. In our beginnings, we hunted among existing specialty lots for coffee that tasted extraordinary, and when our pursuit failed, we knew creating meaningful coffee was our destiny. Taste quickly became our vision, and we began developing the first scientific coffee production operation driven by the discovery of flavor. To this day, we aren't afraid to take risks or break boundaries, and we continue challenging the traditional practices of cherry and coffee processing with the intent of upgrading the industry's status quo. However, through experience, we've realized that we can't create new flavors without having a fundamentally collaborative work ethic, a humanistic communal culture, and an outstanding relationship with the land. We're driven to elevate taste with the knowledge that coffee can be treated better, and we're proud to say that we've successfully established a menu of memorable experience, rather than simply coffee.

Process

Naturally processed coffee, also known as the dry process, is one of the oldest and most traditional methods of processing coffee. The process starts with
freshly picked coffee cherries, sorted and then spread out on drying beds or patios to dry in the sun.During the drying process, the seeds are left with their outer layer of fruit, which ferments and imparts flavor into the seeds. The natural sugars in the fruit canalso cause the cherries to stick together, creating a unique cluster-like appearance. The drying process can take anywhere from several days to a few weeks,depending on the weather conditions and the desired flavor profile of the coffee.
This traditional process can be combined with our Thermolic™ and Criolic™ processes to add more depth. Combined with our Folio™ versions of thoseprocesses, it can elevate the flavor experience of the cups produced to new highs. Then, seeds are placed to dry into a single-layer formation not exceeding 2cm in thickness in raised African beds in the Red Room. Seeds are placed on the top level until they reach 18% humidity and then gradually moved to the lower levels to extend drying time. They are agitated every 2 hours during the daytime to ensure homogeneous drying and avoid hot spots during the drying period. Typically, drying takes 20-25 days until coffee in parchment reaches 11.5% humidity.
Once the cherries are thoroughly dried, they are hulled to remove the dried fruit and parchment layer. The resulting coffee is known for its full-bodied and fruity flavor profile, often with notes of berries, tropical fruit, and sometimes even wine. The natural process can produce a more complex and nuanced coffee than other processing methods, but getting consistent results can also be more challenging.
$

$

You might also like

$

$