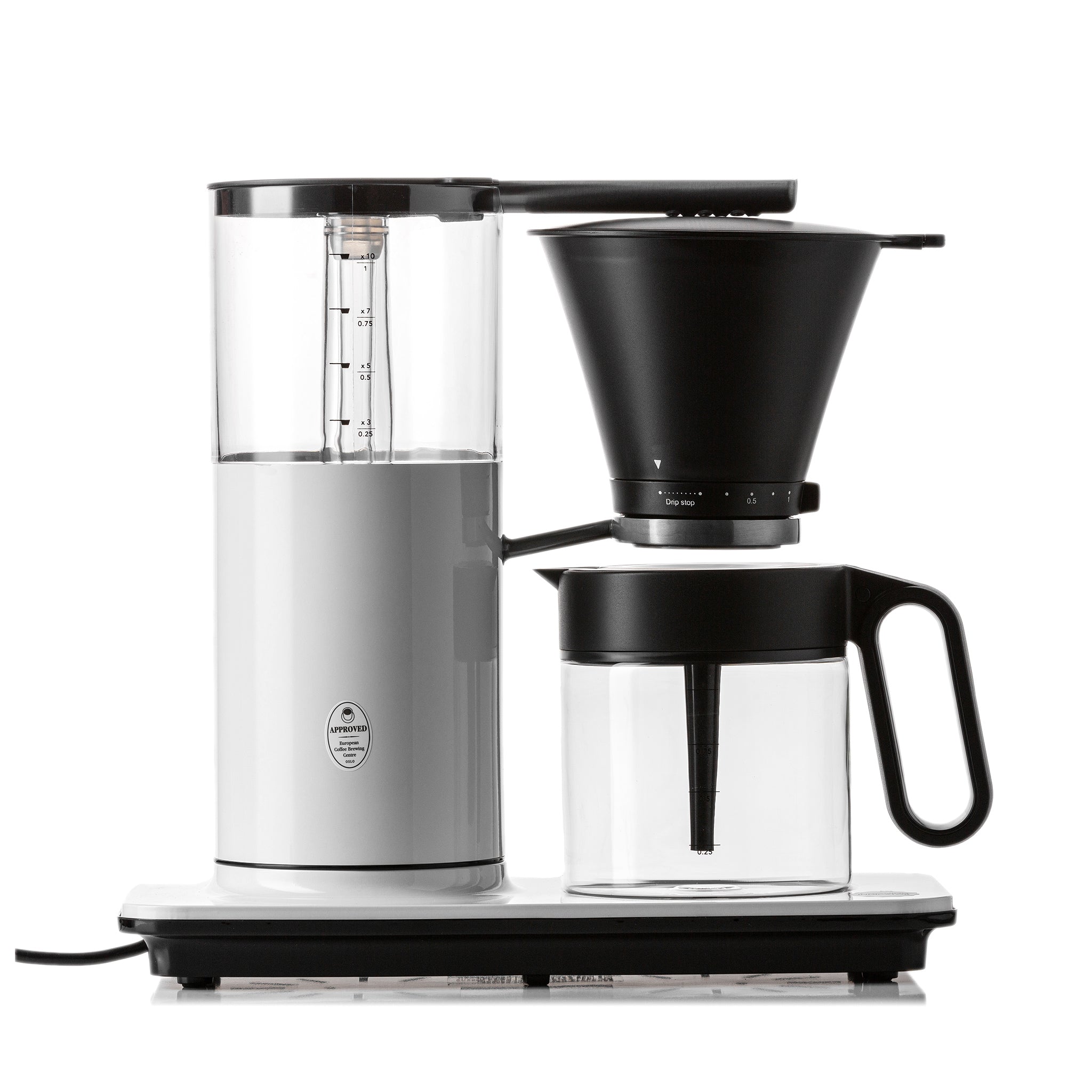 Wilfa Svart Classic CMC-155W White
The WIlfa Classic plus is a filter coffee brewer that suits perfectly at home or the office. Its Scandinavian design is perfectly suitable for home, adding that little extra to your kitchen. Its user-friendly and practicality make this brewer a great option to enjoy great coffee not only for an enthusiast coffee lover but also for the professional barista.
The Wilfa Classic CMC-1550 has been awarded by ECBC, the European Coffee Brewing Center which means it meets high standards regarding proper water temperature and brewing time.
With the WIlfa Classic plus the brewing temperature can range from 92 to 96 degrees, assuring a stable temperature during all the brewing time which is around 4 to 6 minutes (I recommend no more than 5). This is a general rule, no matter what brewing method we use, as most of the espresso-based and filter-based drinks require a similar temperature of extraction.
And speaking of that, stable temperature of extraction ensures the coffee to be extracted at its best with a complex result in the cup. Let's now have a look at the features.
THE MAIN FEATURES OF THE WILFA CLASSIC + BREWER
As I said before, the brewer delivers high standards thanks to the 9-hole brewing arm which ensures homogenous distribution, wetting all the coffee grounds;
Perfect control of the entire brewing process by adjusting the flow rate as desired: keep looking at the flow rate to make sure you achieve the proper brewing time
Easy and practical as you just need to fill the tank with fresh water and put the coffee grounds on the filter holder. After pushing the button, the brewer is going to warm the water and start the extraction itself, easy peasy! ;
A hot plate that keeps the coffee warm: after the extraction is finished, you can leave the coffee in the hot plate for 40 minutes. After this time, the coffee brewer switches itself off if not used, thanks to the automatic switch-off. I wouldn't recommend to leave the coffee in the hotplate for longer as it's going to be bitter if the time passes by;
A drip-stop function that allows stopping the brewing process while taking out the coffee server preventing any spills on the hotplate;
A cleaning indicator that is going to tell you when the brewer needs to be clean: after 60 brews the button is going to flash advising you that it needs to be cleaned or descaled. Regarding of cleaning the brewer, just remember to not put it in the dishwasher and to not use any steel wool or an abrasive sponge that may scratch the hotplate of the brewer, the server and the carafe.
$

$

You might also like

$

$