4th Hellenic Aeropress Championship!
Previous
Next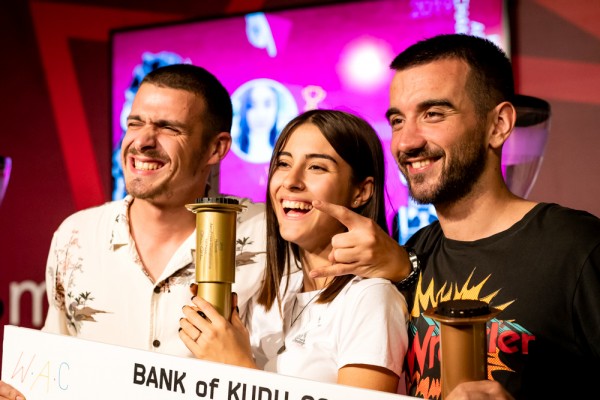 A popular institution for the past few years and after three successful events, the Greek Aeropress Championship took place for the fourth consecutive year with absolute success.

The 4th Hellenic Aeropress Championship was held for the first time as part of the 4th Athens Coffee Festival, in an environment where coffee had its honor. 66 ambitious baristas were in Technopolis to compete the aerodynamic brewing method and claim the first place, along with a ticket for the Aeropress 2019 World Championship, in London. The final was preceded by a qualifying phase, followed by quarterfinals and finals. The contestants put all their skill to make the best cup of filter coffee, using the Aeropress extraction method. A jury judged the efforts of the contestants after a blind test-evaluation. The jury consisted of Giannis Taloumis, owner of Taf Coffee, Thanasis Nikolis, Head Roaster of KUDU Coffee, Dimitris Konstantopoulos, Barista Trainer of Kawacom, Christos Kavrakos, co-owner of Mind the Cup in Peristeri and Peek a Bloom in Athens, Nikos Antzaras, Head Roaster in the coffee company "Samba Cafe", Costas Dalakouras, owner of the company Cafeistas and Costas Kalafatas, owner of the coffee company "Samba Cafe". The time of each round was 8 minutes, while the whole process was carried out under the coordination of Stavros Lambrinidis, who undertook the presentation of the event and managed to maintain the undiminished interest of the public with his humor and comfort.

The big winner of the competition was Vasso Kalathaki, who deservedly won the prize and will represent our country at the World Aeropress Championship, in November 2019. The second and third place were taken by Spyros Piliafas and Thanasis Klouvatos respectively. Table with the qualifiers, finalists and the winner of the 4th Hellenic Aeropress Championship. We wish the winner, Vasso Kalathakis, to steal the show in the world competition as well, while we warmly thank the participants and all those who contributed to the organization of the event. Special thanks to our sponsors for their significant support and contribution to the successful conduct of the championship. In particular, the company Cafeistas Coffee Roasters, which took care of our guests of the event with freshly brewed coffee, as well as the company Wellness Stores, with the iXwater ecofilter water filters.
 
The response was great, a fact that fills us with satisfaction and gives us a huge impetus to continue strengthening this successful institution. We are renewing our appointment for next year, setting the bar even higher.