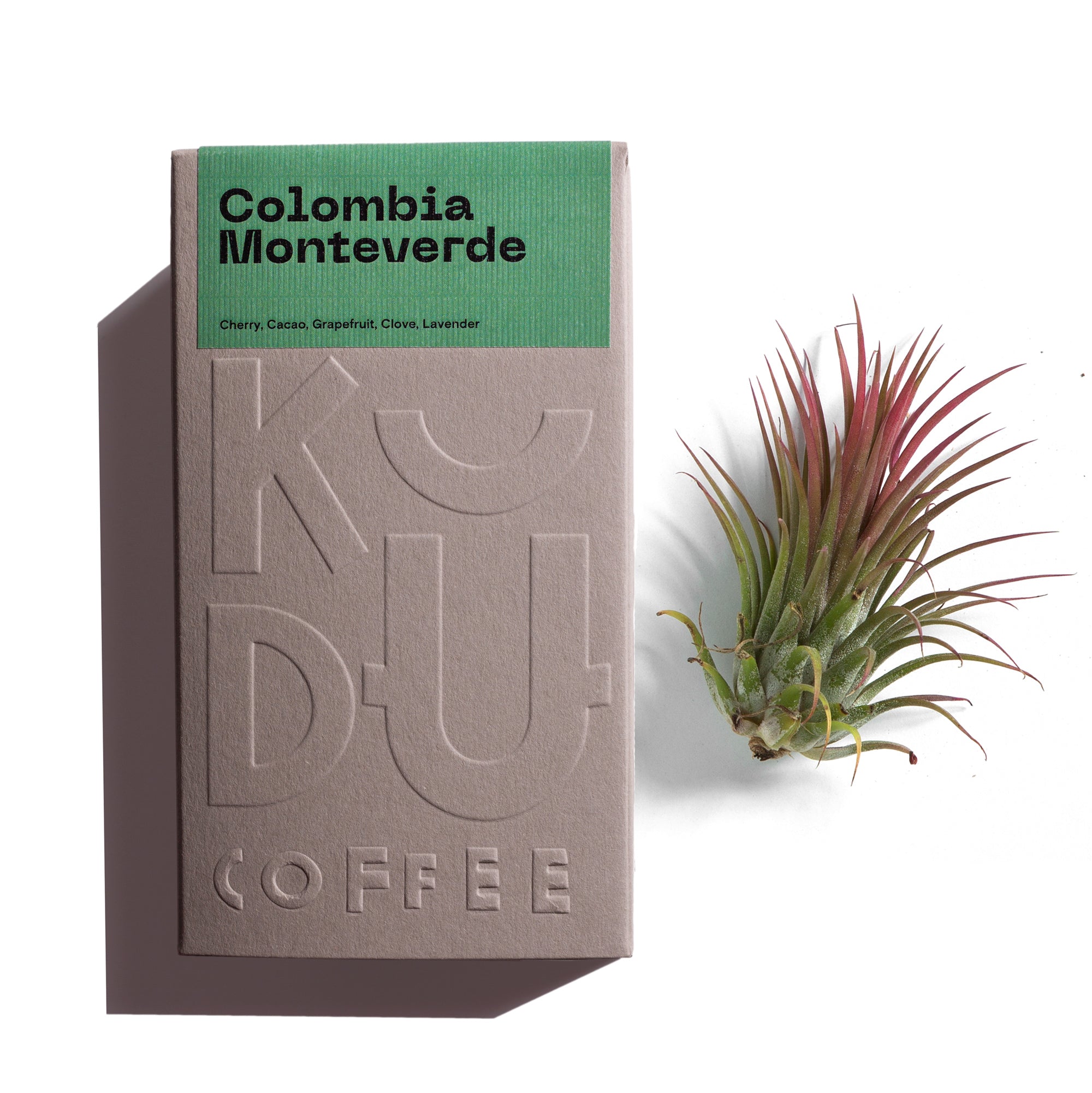 Colombia Monteverde (150g)
Cherry, cacao, grapefruit, clove, lavender in the aromas and flavor. Juicy bright acidity. Smooth and Creamy. The sweet tart finish resonates with rose, jasmine, oolong tea and cherry liquer.
FARM: Monteverde
BEHIND PRODUCTION
Finca Monte Verde is an example of successful generational relay, originating with Alejandro Gutiérrez, and passed on to the current third generation under Gildardo Gutiérrez, his grandson. Gildardo, who has lived and raised his kids in Monte Verde during the last 50 years, was the first to introduce varietals with excellent cup potential to the estate. This Geisha comes from Finca Monteverde in Tolima, Colombia. Giraldo Gutierrez Falla and the Gutierrez Falla family have cultivated this variety on their 15-hectare farm among other special coffee varieties such as Wush Wush, Red and Yellow Bourbons, and Moccas. For over 70 years they've cultivated their coffees on Monteverde and continue to excel in quality year after year.
All of their coffees are harvested at optimal ripeness and are entirely controlled from fermentation to drying. The Gutierrez family aims to be a recognized and notable coffee farm in Colombia that offers exotic, rich, and high-quality varieties that are scarcely available such as their Geisha.
This Geisha coffee is red hot anaerobic natural processed and is grown at 1750 MASL in the department of Tolima, Colombia.
LOCATION
Tolima Colombia is one of the more centrally located regions in Colombia that reaches altitudes of more than 2,000 masl. It's a region that has historically been war-torn by paramilitaries and guerilla forces. Today, it's a region that is prosperous in coffee production among other agricultural products. Tolima is Colombia's 3rd largest growing region accounting for roughly 12% of Colombia's coffee production. The majority of varieties grown in Tolima are Castillo and Colombia, but there are many unique varieties, such as our Geisha, that are cultivated in Tolima. Along with its neighboring coffee-producing regions, Tolima is one of Colombia's many producing treasures that buyers continuously seek out.



We got this coffee directly from Monteverde farm.
About Monteverde
PRODUCER:

Gutierez Family
TERROIR:

Tolima
ALTITUDE:

1700 m
PROCESS:

Red Natural
ARRIVED IN:

24 kilo Vaccumed
VARIETIES:

Gesha
AROMA:

Lavender , Lemongrass, Clove
FLAVOR:

Lemon, Cherry, Red apple, Sugarcane
BODY:

Creamy
FINISH:

Cacao, Grapefruit
Monteverde has been in the hands of the family Gutiérrez for more than 5 generations. Special processes done at Monteverde, consist of select the best coffee beans, those that are in optimal maturity, the controlled fermentation process.
They have developed some protocols which print features fruity and spicy, unique to coffee, this fermentation technique in cherry they learned it from Yemeni coffee, who develop it perfectly.
The drying processes are done in structures type canopy with translucent roof, taking care that air flow so it keeps the temperatures low during the process, this step can take an average of 25 to 30 days, the coffee finally it is packed in grainPro and fique bags, when the humidity reaches 11%.
$

$

You might also like

$

$