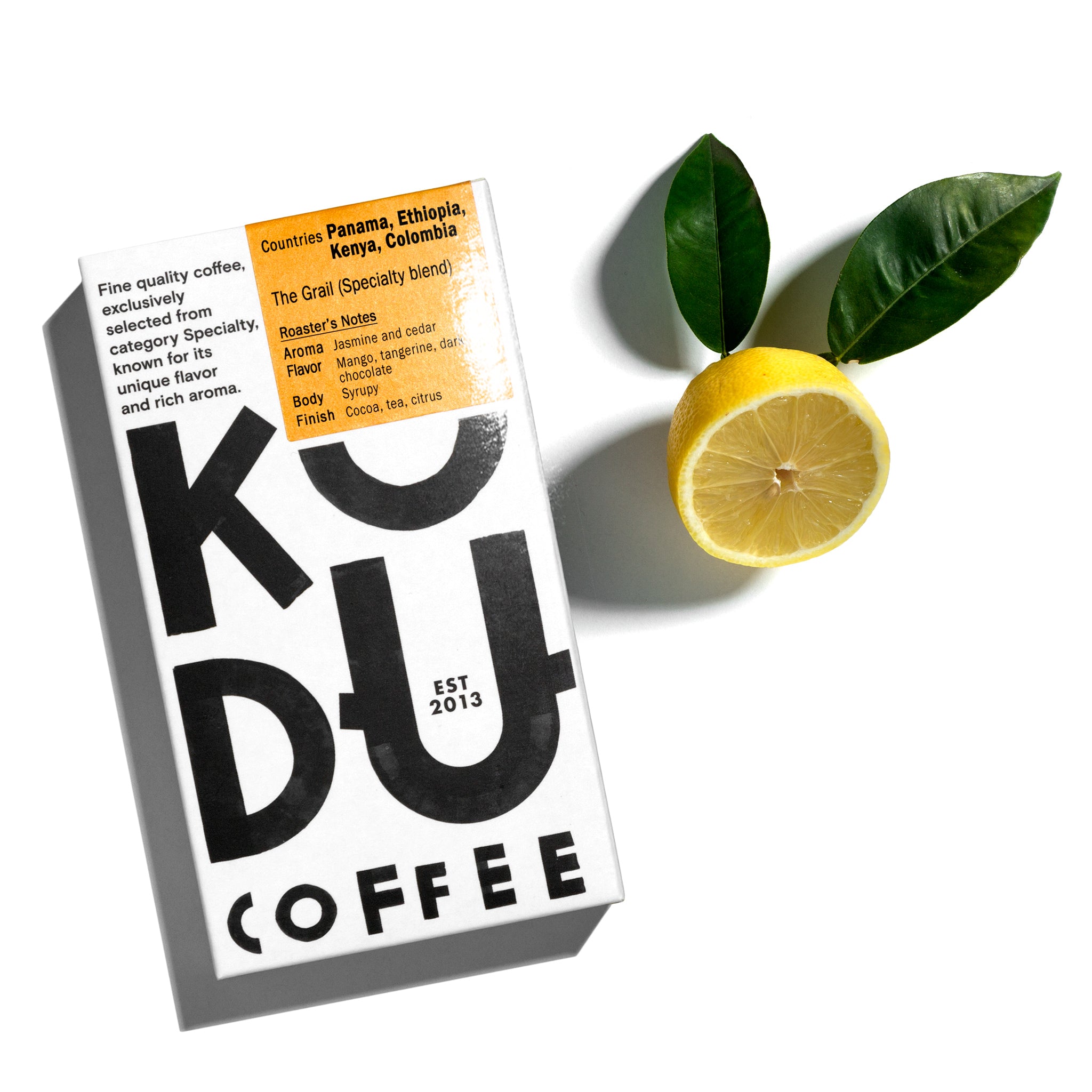 The Grail Specialty Coffee blend (250g)
Subscribe for 6 months and receive a discount coupon.
ⓘ Learn more
Subscribe to our service for a minimum of 6 months and receive a 15% discount coupon. This offer is valid for all subscribers who maintain their subscription for a period of 6 months or more. Please note that the discount coupon will be delivered to eligible subscribers via email within 30 days of reaching the 6-month subscription milestone.
Rich-toned, fruit-forward and chocolaty. Chocolate fudge, dried apricot, almond paste, cedar, mango  in aroma and small cup. Viscous, syrupy mouthfeel with a resonant finish centers around tangerine and jasmine.
Blend: The Grail
PHILOSOPHY KUDU PERSPECTIVE
When we thought about building the Grail blend, we chose coffees that would work together to deliver balance, body and a complex sweetness. Therefore, Grail blend features coffees sourced from small-holder farmers in four countries. Panama for complexity, Kenya for the aromas, Colombia for the smooth mouthfeel and Ethiopia for the tea like character. Four carefully-developed roast profiles work together to guarantee balance and dessert-like sweetness year-in, year-out.
TARGET
We put extra love and care into developing our Grail blend. A chocolate body, paired with a ripe cherry aroma and complex fruity flavors delivers a clean cup. Grail is perfect for any brewing method in home, office, coffee shops etc.



Grail is the third KUDU blend created in 2016 and till today it has been improved based on the same philosophy in flavors and aromas. Collaboration with many importers and farmers has led to this blend.
About Grail
PRODUCER:

KUDU Coffee Roasters
ALTITUDE:

1600-2000 m
PROCESS:

Washed, Natural
VARIETIES:

Cattura, Catuai, Sl28 Castillo And Heirloom
AROMA:

Jasmine, Cedar
FLAVOR:

Mango, Tangerine, Dark Chocolate
BODY:

Medium Syrupy
FINISH:

Tea-Like, Cacao, Citrus
A blend is a combination of ingredients mixed together to produce something unique and distinctive. The success of a blend lies in its ability to unite separate elements into a seamless whole of harmonious and unified arrangement of parts. We strongly believe that Grail blend has all of the above.
$

$

You might also like

$

$