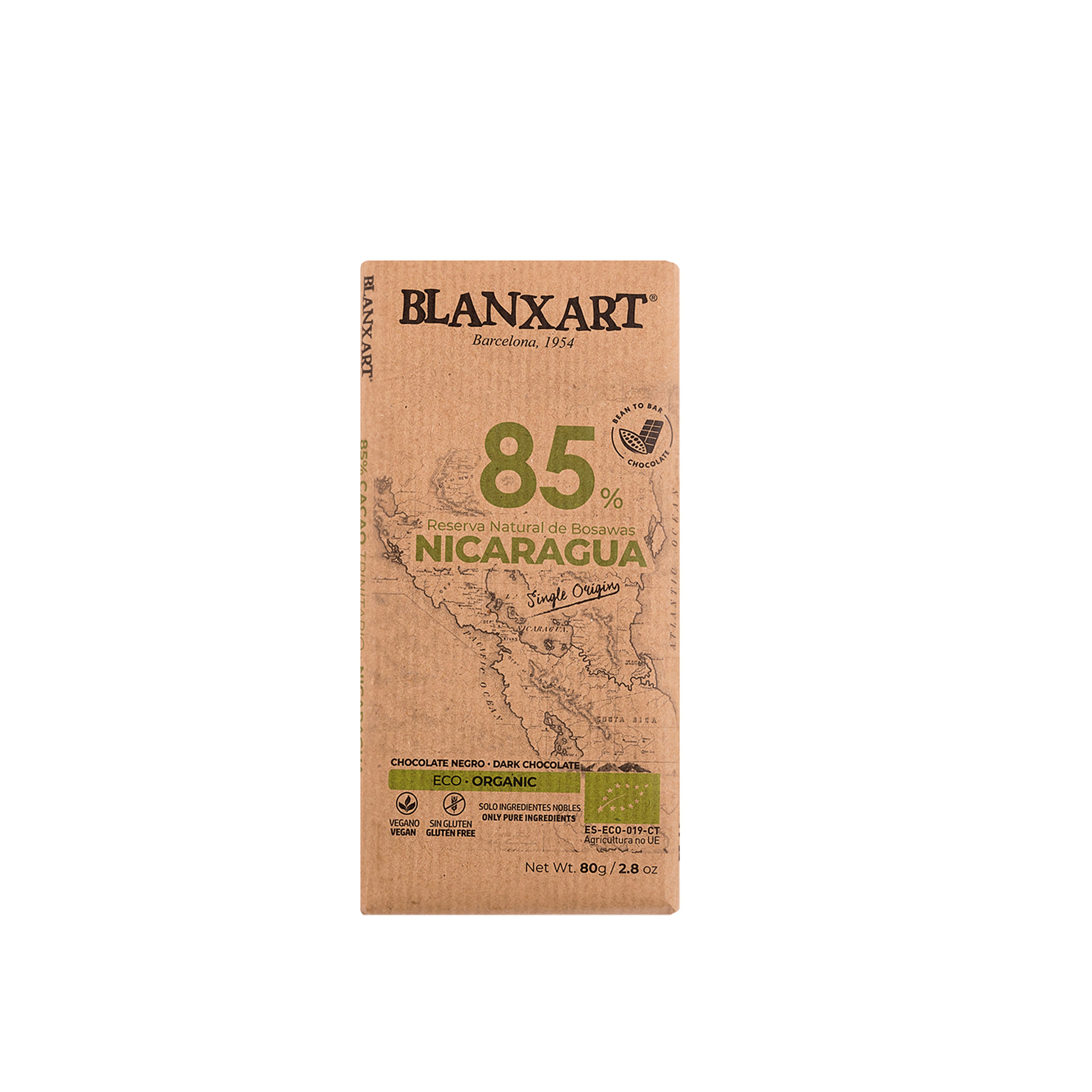 Blanxart Nicaragua 85% Eco 80 gr
ATTENTION: THIS PRODUCT IS AVAILABLE TO SHIP ONLY IN ATTICA, GREECE
This is a bar of organic dark chocolate made with 85% Criollo and Trinitario cocoa from Nicaragua. Specialty with a high percentage of cocoa and at the same time very balanced by aromas. Ideal to start getting to know the Blanxart range.

Chocolate that is perceived as complex as well as balanced. With slightly fruity and dried fruit notes, which merge with a soft spicy and earthy nuance, reminiscent of sweet liquor.

Organic, vegan and gluten-free chocolate. Made with fine cocoa of the Forastero variety.
Blanxart creates chocolates exclusively with cocoa from a single origin, to enhance the uniqueness of each of the recipes. Following the Bean to bar process, Blanxart controls the entire process: from the selection of cocoa in small plantations, the slow roasting in our facilities, to the packaging of the chocolate bar.
Organic
Vegan
Gluten free
INGREDIENTS
Cocoa, sugar, cocoa butter. Cocoa: 85% minimum.
NUTRITIONAL INFORMATION
Energy value: 624kcal / 2583 KJ
Fat: 52,2g /of which saturated: 32.7g
Carbohydrates: 22.3g
Proteins: 10.8g
Salt: 0.01g 
ALLERGENS
May contain traces of nuts, milk and soy.
CONSERVATION AND CONSUMPTION
It is recommended to store in a cool and dry place, between 15 and 18ºC. Given the qualities of the product, avoid the refrigerator if possible. Dark chocolate has a shelf life of 2 years from its manufacture.
$

$

You might also like

$

$