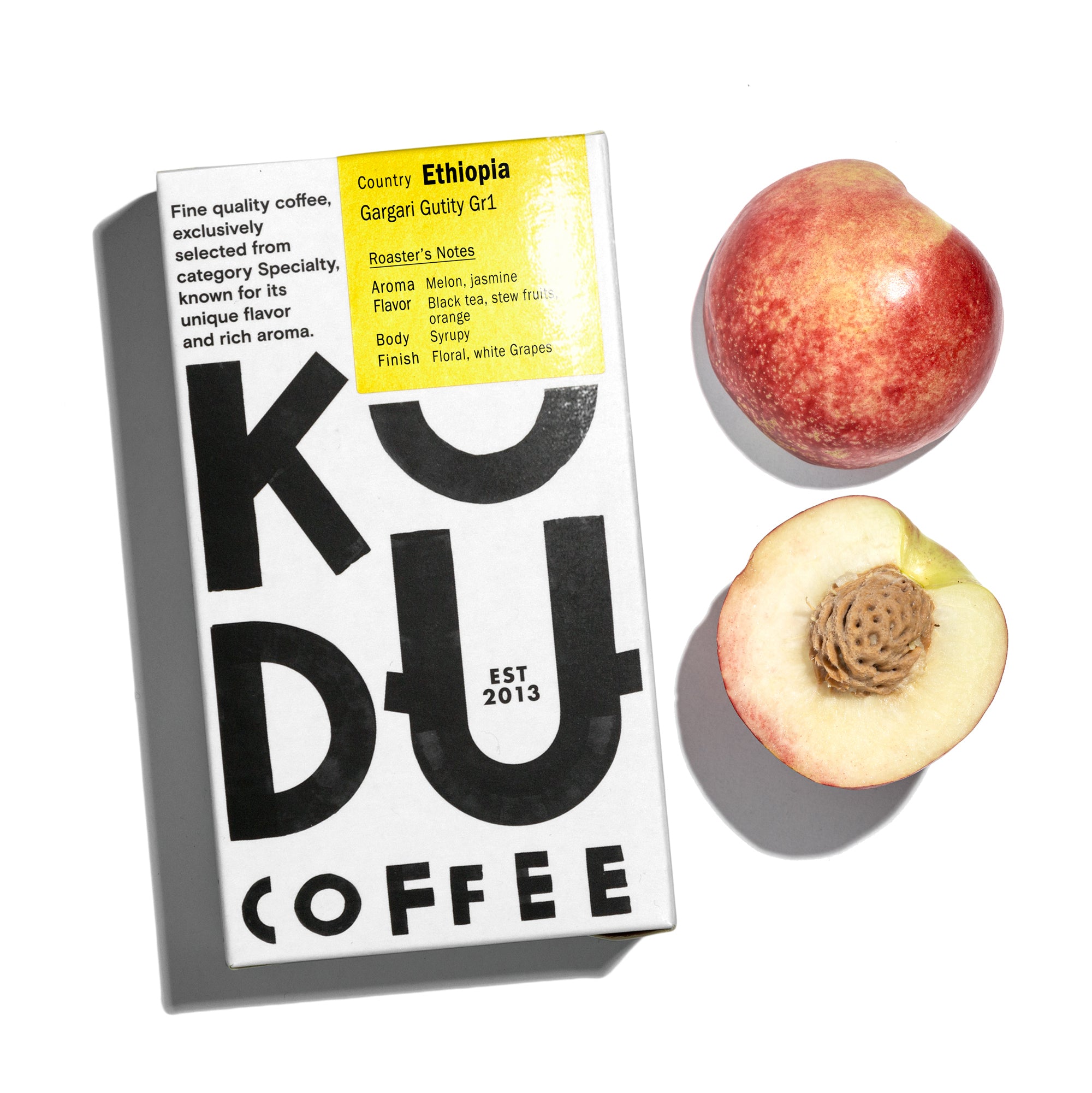 Ethiopia Gargari Gutity (250g)
Experience our coffee's delightful melon and jasmine aromas, enriched by black tea and stewed fruit flavors. A touch of zesty orange complements the syrupy mouthfeel, while floral notes and hints of white grapes create a captivating, harmonious profile.
FARM: Yirgacheffe
BEHIND PRODUCTION
Nestled in the heart of southern Ethiopia lies the enchanting Yirgacheffe Gargari Station. It's like a hidden gem managed by the coffee virtuoso, Birhanu Geda. This haven sprawls over 2.5 hectares, perched at an elevation of 1,983 meters above sea level. It's a bustling hub where more than 3,200 farmers gather each week, bearing the bountiful 74110 variety.
In the realm of the Washed Lot, the journey begins with farmers meticulously plucking the juiciest cherries from their lush crops.

These treasures are then artfully de-pulped and left to ferment, a secret dance lasting 12 hours. A ritual of washing follows, culminating in an extended 48 to 72-hour fermentation. Finally, the precious beans are spread on African beds, basking in the sun's embrace for 8 to 12 days, their transformation guided by the whims of the weather.

But wait, there's more magic in the Natural lots! Ripe cherries, lovingly handpicked, are like stars strewn across African drying beds, left to sunbathe for a generous 19 to 25 days. During this time, they're tenderly coaxed and turned, ensuring an even, exquisite drying process.

Yirgacheffe Gargari Station, where every coffee bean tells a story of dedication, patience, and the lush embrace of Ethiopian soil.
LOCATION
Yirgacheffe Gedeb, in the Gedeo zone of Ethiopia, is renowned for its exceptional coffee. Situated in the Southern Nations, Nationalities, and People's Region (SNNPR), it's aptly named "Land of Many Springs." The region boasts ideal terrain, elevation, and water sources for coffee cultivation. Local farmers, often multi-generational landholders, contribute to the rich coffee heritage. Cherries are typically processed at centralized washing stations, enhancing distinct flavor profiles. Yirgacheffe is celebrated as the birthplace of coffee, home to diverse coffee tree varieties, including heirlooms.



Gargari Gutity arrived to our roastery via EL CAFÉ, a company established in 2000 by Vasileios G. Anastasopoulos that is solely concerned in the coffee producing countries with discovering new coffee varieties on special farms. Since then they supplie most of the largest coffee producing companies in Greece, by remaining as a dedicated green coffee import and trading company.
About Gargari
PRODUCER:

Birhanu geda
TERROIR:

Yirgacheffe
ALTITUDE:

1900-2500 m
PROCESS:

Washed
ARRIVED IN:

60kg Bags
VARIETIES:

7412 & 74110
AROMA:

Jasmine, Melon
FLAVOR:

Orange, Maple, Apricot
BODY:

Suropy
FINISH:

Black tea, Citrus, Grapes
This unique washed lot hails from local farmers cultivating the petite "Kurume" beans, akin to Mocca beans in size. These exceptional coffees are curated by Primrose Coffee, driven not only by crafting exquisite flavors but also by their deep commitment to community impact.

Under the leadership of Mr. Abreham Mengiste & Mrs. Meseret Workneh, they've spearheaded social initiatives like school and bridge construction, supplying vital school resources. Primrose Coffee embraces sustainability, empowering the farmers behind their success.

Yirgacheffe's renowned reputation, coupled with these exceptional lots, is a thrilling addition to our offerings.
$

$

You might also like

$

$