5th Hellenic AeroPress Championship
Previous
Next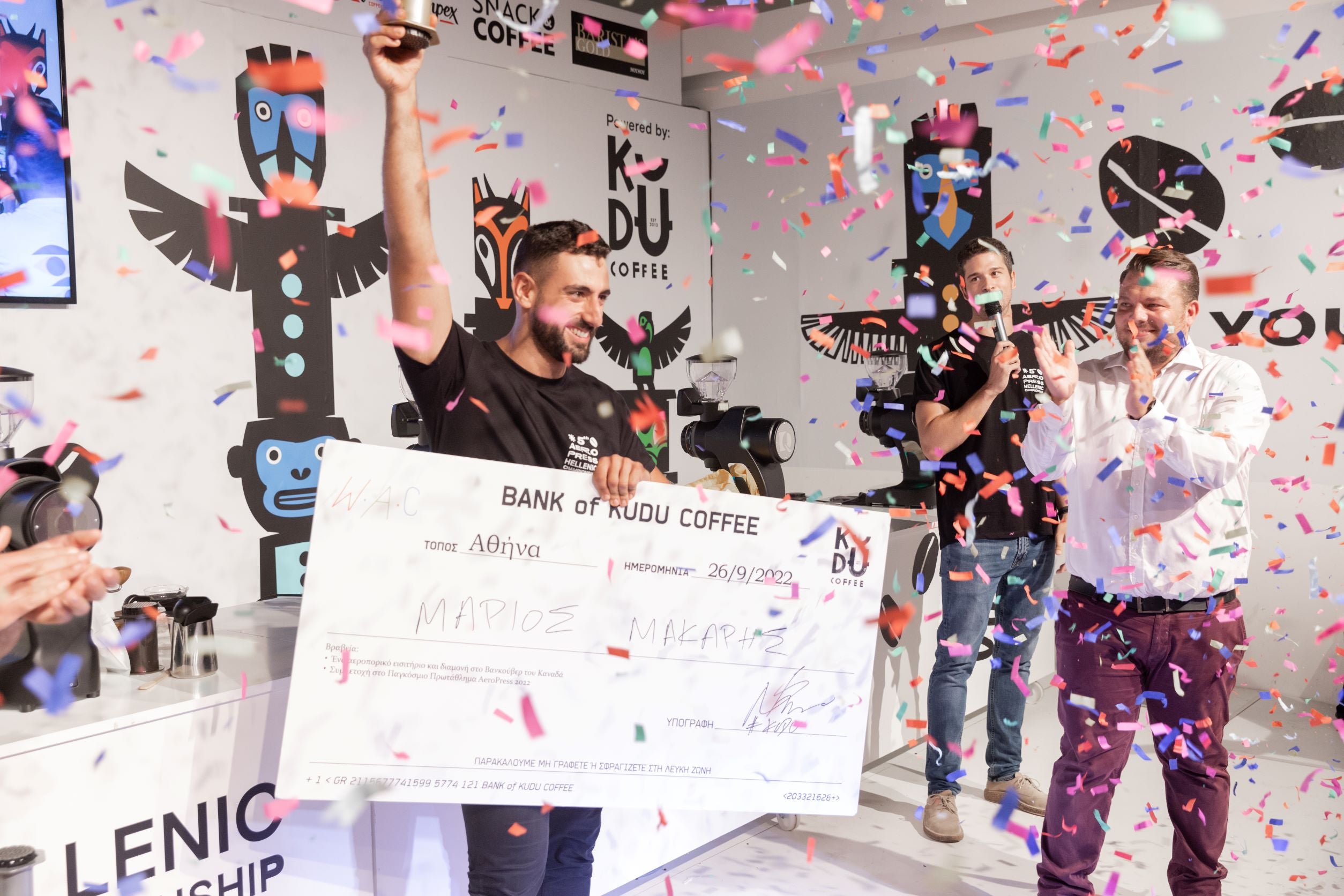 For the 5th year, the Hellenic AeroPress Championship was held with absolute success, confirming once again that it has deservedly emerged as the most beloved and fun competition of the year.
The 5th Hellenic AeroPress Championship Powered by KUDU, was once again held as part of the Athens Coffee Festival, in an environment where coffee had its honor. Ambitious baristas and coffee lovers were in Technopolis, to compete in the aerodynamic method of brewing and claim the first place, along with a ticket to the AeroPress World Championship 2022, in Vancouver, Canada. 
The contestants put all their skill into making the cup that will make the jury go crazy!
Six great judges emerged through blind testing-evaluation the best cup of coffee of the competition. The team of judges consisted of Athanasios Nikolis, Head Roaster at KUDU Coffee Roasters, Orestis Sfyris, Head Roaster at Project Cafeistas, Alexandros Foukis, Roaster & Quality Manager at Handpickers Coffee Roaster, Christos Loukakis, QC Manager & AST trainer at Wisecup Coffee roasters, George Makropoulos, Coffee Expert at Nestle Professional Greece and Sotiris Kousis, R&D Coffee Expert at Coffee Island.


The time of each round amounted to 8 minutes, while the whole process was conducted under the coordination of Spyros Margaritis, who undertook the presentation of the event and managed to keep the interest of the audience undiminished with its humor and comfort.
The big winner of the competition was Marios Makaris who will represent our country in December at the AeroPress World Championship in Vancouver, Canada! The second and third place were won by Giorgos Giannakis and Spyros Lappas respectively.
We give Mario our best wishes for the AeroPress World Championship. We have great faith in him and would really hope for a very good position, but above all we wish him to have fun and enjoy this unique experience!
We warmly thank all the participants and the public who this year surpassed all precedents as well as all those who contributed to the organization of this year's competition.
Special thanks to all our sponsors and supporters of the event!
Nikos Saladimas was on the decks and framed musically each moment of the competition and all the coverage of the event in video recording and photography was by Giorgos Nalbantis with his team. 
We in KUDU Coffee Roasters team, as every year, particularly enjoyed the organization and conduct of the 5th Hellenic AeroPress Championship and we renew our appointment for next year!