Turning our passion into a company that exports specialty coffee globally!
Previous
Next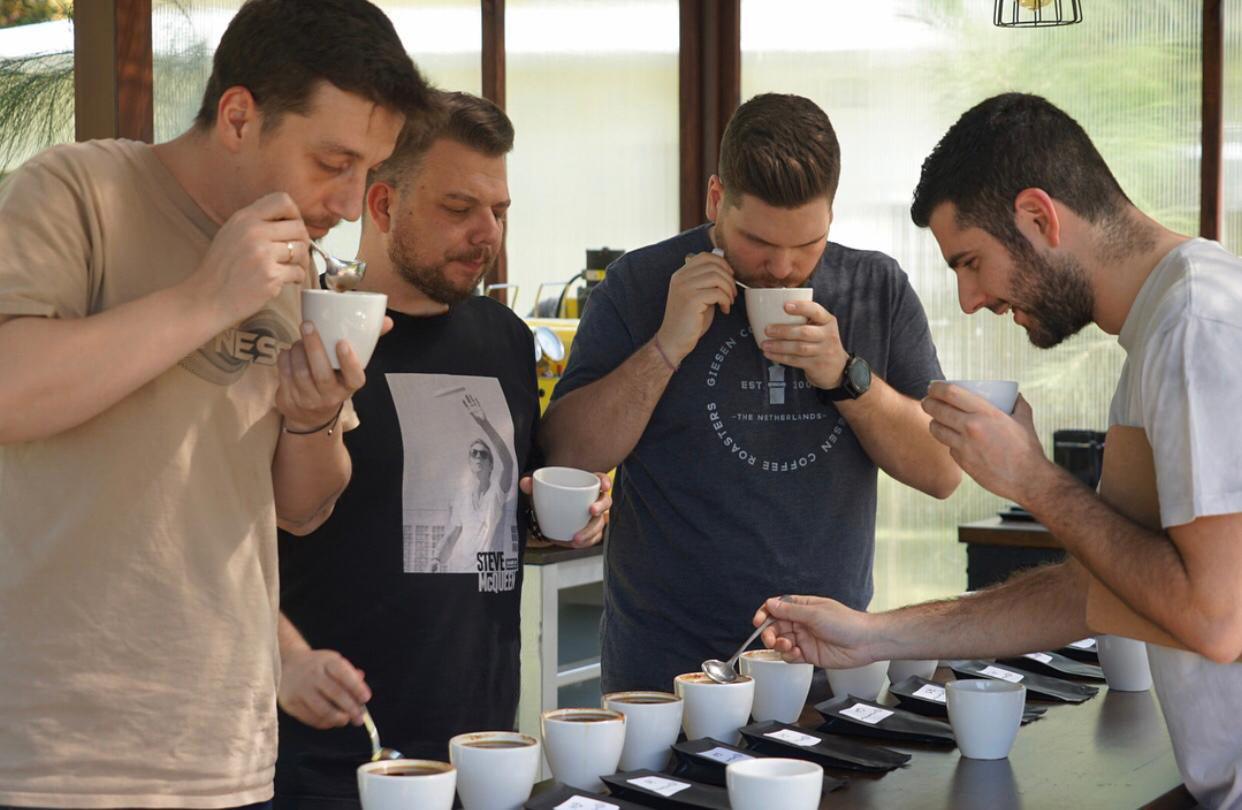 We met at a children's summer camp in Greece when we were young. Growing up everyone followed their way, but our friendship lasted throughout the years. Nikos, Christos and Tryfonas, each with a different professional activity, shared except for common childhood memories, a big love for coffee.
We were playing the game of hidden treasure with fine coffees, always looking for shops in Greece and abroad that offered the most special coffees. At some point we decided  to turn our passion for good coffee into a profession and join our professional careers to a dream that we shared from childhood. 
So we decided to roast and process specialty coffee. 
We had a lot to learn and to explore. We experimented with different varieties and coffee treatments, in order to acquire the know-how and create our own roastery. Quality assurance was a non-negotiable condition to start our own company.
 Thus Kudu Coffee Roasters was born. The company was named after Kudu, the Ethiopian Antelope which according to a famous legend was the first animal to discover and eat the coffee bean in Abyssinia in 300 AD, Ethiopia as we know it today.
 Travelling in countries where coffee thrives so as to explore specialty coffee varieties and fine coffee beans around the world is the basis for creating a unique cup of coffee. We even visit small villages in countries with small coffee production in order to get something unique. We taste all the crops of the producers before they are even packed to travel. But our work does not stop at finding and sourcing the best beans possible. Specialty coffee requires commitment and the utmost care at any level. Every step until coffee reaches your hands is important to us. As soon as the coffee beans arrive at our facilities we find the ideal roast profile for each variety so as to produce a superior final product. All our coffees are roasted on demand, so that every customer receives a package of fresh coffee with its aromas and flavors at their best.
 We started making three basic blends and supplied them to shops in Greece. Soon, we reached to have more than 30 coffees from different origins around the world.
 In 2017, a critical year for the company, the vertical growth in production started and the company's opening to the global market was decided. It has now quadrupled its production volume. Today we supply specialty coffee to more than 250 points of retail and wholesale globally.
 We are very happy that our products are exported outside Greece, to more than 10 countries abroad, such as Qatar, Bahrain, Hong Kong, Luxembourg, Poland, Warsaw, Berlin and London. It is very pleasant to travel outside your country and see your coffee on the shelves or to drink an espresso that your associates have roasted in a coffee shop.
The whole team of KUDU Coffee Roasters, creates daily coffee carefully every step of the way, a fact that has been recognized with many awards.
We have a lot of distinctions in recent years. This year we won the title of Panhellenic Roasting Champion and Panhellenic Champion in filter coffee. How important is it to be rewarded for the efforts of an entire year? It gives us the strength and the boost we need to continue making good coffee for everyone.
 It may take only a few minutes to have a coffee, but for us, coffee is an ideology, with dozens of people contributing, from the producer to the barista, all working for a single common cause. To take the enjoyment of coffee to another level.
 Find all our coffees and equipment here